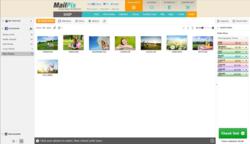 "MailPix is the first major photo printing site to make Facebook and Instagram printing as easy as selecting an image from an online album."
-Fred H. Lerner, MailPix
Huntington Beach, Calif. (PRWEB) October 23, 2012
MailPix Inc., the new online photo-printing site, announces users can print Facebook and Instagram photos directly from their MailPix account. Users can easily choose pictures from their own albums or from pictures shared with them by Facebook friends. For example, a user can create a photo book using birthday party photos of their own and also photos of the other partygoers. Also, MailPix users can login with their Facebook id, simplifying the entire process.
"With millions of images uploaded each day to Facebook, there are unlimited memories to be preserved in prints, in photo books, in photo cards and on canvas," says Fred Lerner, president and CEO, MailPix. "MailPix is the first major photo printing site to make Facebook and Instagram printing as easy as selecting an image from an online album."
Lerner also announced a free 20-page 4x6 photo book from Facebook photos offer, with promo code: BRAG420. (A nominal shipping fee will be applied.)
Industry research shows many online photo projects are left unfinished because the user doesn't have the right photos to finish it; by letting MailPix users access the Facebook albums of friends and family, that problem goes away. MailPix offers a robust search function, making finding those family memories a snap.
Similarly, MailPix enables users to easily browse and to search their own Instagram photos, as well as those shared with them.
"Instagram is the go-to app for creative mobile photography," adds Lerner. "MailPix offers several square print sizes specifically for Instagram."
MailPix carries the most popular photo print sizes, from wallets to 4x6, on up to 20x30 enlargements, as well as collages, greeting cards, canvas prints, photo books, photo T-shirts, ornaments and more. Add to this the MailPix lifetime free storage service, there's lots of reasons to choose MailPix. MailPix also offers a monthly photo contest via its Facebook page.
About MailPix
Founded in 2012, MailPix.com is the pre-eminent site for preserving photo memories as photo books, prints, cards, enlargements and other tangible products. The goal of MailPix is to keep costs low and to pass savings along to consumers. Founder and CEO Fred H. Lerner has had a long career introducing thousands of people to the importance of "Turning Images into Memories."
The MailPix board of advisors includes James Joaquin of Catamount Ventures, formerly president and CEO of Ofoto; Ted McGrath former President of Fujifilm, USA and General Manager of Kodak's Consumer Imaging Division; Gary Pageau, of InfoCircle and former Publisher, Content Development and Strategic Initiatives at Photo Marketing Association International (PMAI); William A. Roskin, board member of Martha Stewart Living Omnimedia, Inc. (NYSE: MSO) and is the former Executive Vice President of Viacom, Inc. (NASDAQ: VIAB); Oscar B. (Bud) Marx III, chairman of Amerigon (NASDAQ: ARGN) and is the former President & General Manager, Ford of Mexico and CFO of Ford, Europe; Bruce Charles, a founder of the law firm, Charles, Kane & Dye LLP; Gary Kramer, the founder and a co-managing partner of Kramer & Olsen Accountancy Corp.; and Peter Tahmin, an advisor to Powsumer.com and former vice president, RitzPix.com.