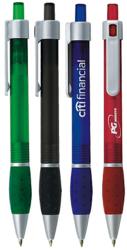 Seattle, WA (PRWEB) October 23, 2012
1234 PENS, North America's number one source for customized logo and advertising pens, is proud to now offer the affordable and stylish Klicker retractable ballpoint pen as part of its selection of customizable advertising pens. This quality writing instrument is a natural choice for companies who wish to reach out to their clients with a free gift to show how much their business is valued.
Clients want to be appreciated by the companies they decide to do business with, and will stay with companies who have built relationships with them. Today, it is more important than ever to spend advertising dollars wisely in order to reach out to existing clients, and to attract new ones. The gift of a customized advertising pens is a great way to give clients something that won't get lost in the shuffle. Branded with a corporate logo and contact information, it serves as a physical reminder of the company that gave it to them, and also gets the word out to whoever they may lend the pen to. And at a cost of less than a dollar per unit, these customized pens can easily fit into any company's budget.
1234 PENS is proud to now offer the Klicker line of ballpoint promotional pens in its selection of customizable writing instruments. Its plunger action retractable design comes complete with a frosted plastic barrel in a choice of green, black, blue or red. Each pen is trimmed in silver tones, and is adorned with a comfortable rubber grip which matches the barrel color. These pens feature a medium ballpoint, and come standard with a cartridge of blue ultra smooth writing ink. Klicker retractable pens can be customized in one of sixteen different imprinting colors, and many of our selection of business pens can be customized and delivered to any location in the United States and Canada within 48 hours.
For more information on how 1234 PENS can help companies reach out and show their appreciation to their valued customers with an affordable and useful gift, call 1-888-844-7367 or order online at 1234pens.com.
About 1234 PENS:
In business since 1976, 1234 PENS has helped thousands of clients increase brand awareness and customer loyalty through their high-quality products. 1234 PENS offers pens, pencils and gift sets to suit all budgets, and offers 48-hour delivery on a select number of designs