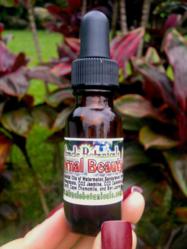 Eternal Beauty is extremely moisturizing, rejuvenating, protective, and anti-aging, to promote amazing skin and natural beauty!
Pahoa, HI (PRWEB) October 23, 2012
Miracle Botanicals, the Leader in Reiki Charged Pure Essential Oils, is now offering Eternal Beauty Facial and Skin Serum - which is Highly Healing and Moisturizing for all Skin Types, including the Sensitive Areas. Click Here to take Advantage of this Natural Skin Miracle For Only $34.97
Eternal Beauty Skin Serum contains only the Finest Pure Essential Oils, Carrier Oils, and CO2 Extracts, each selected based on it's medicinal properties, which encourage skin health. Eternal Beauty is extremely moisturizing, rejuvenating, protective, and anti-aging, to promote amazing skin and natural beauty!
 
Watermelon Seed Carrier Oil
Botanical Name: Citrullus Vulgaris
Origin: India
Watermelon Seed oil is an excellent moisturizing carrier oil, which helps restore elasticity to the skin. It is also non-greasy, being the perfect moisturizer for dry, oily, acne-prone, and maturing skin.
 
Argan Carrier Oil
Botanical Name: Argania Spinosa
Origin: Morocco
For centuries, Moroccan women have used cold pressed Argan oil for skin and hair care. Argan oil rapidly penetrates the skin, leaving it extremely soft and sensory to the touch. Argan oil contains many poly-unsaturated fatty acids including: linoleic acid, Omega 6 fatty acids, and natural tocopherols, which are all nourishing, regenerating, and protective to the skin. It also helps with free radical damage, aging, and eczema.
 CO2 Pomegranite Seed
Botanical Name: Punica Granatum
Origin: India
CO2 Extracted pomegranate seed oil is excellent for moisturizing, improving elasticity, reducing wrinkles, and preventing aging towards all skin types. Pomegranate is also an excellent cure for many skin problems including: dry and irritated skin, eczema, and psoriasis.
 
CO2 Extracted Meadowfoam Seed Oil
Botanical Name: Limnanthes Alba
Origin: United States
CO2 Extracted Meadowfoam seed oil is extremely high in fatty acids and carbon atoms, resulting in rapid absorption in the skin and leaving a light skin feel. Also, due to the quick absorption of meadowfoam, the skin is left feeling velvety soft.
Helichrysum Essential Oil
Botanical Name:Helichrysum Italicum
Origin: Morocco
Helichrysum is an excellent skin care oil, as it stimulates the regeneration of skin cells – which can heal many skin anomalies, including wrinkling and scars. Helichrysum is also extremely antibacterial, anti-viral, and anti-fungal.
 
Calendula CO2 Extract
Botanical Name:Calendula Officinalis
Origin: Egypt
CO2 extracted Calendula oil is extremely effective in reducing skin inflammation and psoriasis. Since calendula is anti-inflammatory and anti septic, it eases the inflammation of the lesions and inhibits the proliferation of skin dis-ease.
 
Jasmine CO2 Extract
Botanical Name: Jasminum Grandiflorum
Origin:India
CO2 Extracted Jasmine is excellent for dry, oily, irritated and sensitive skin. It is often widely used in many skin and facial treatments for rejuvenation and soothing of the skin.
 
Sandalwood Mysore Essential Oil
Botanical Name:Santalum Album
Origin: India
Sandalwood Mysore essential oil is extremely anti-inflammatory, antiseptic, and antiviral. It helps to counteract inflammation of the skin as well as growth of microorganisms. It is also a skin conditioner, helping with dry and chapped skin, wrinkles, and acne.
 
Carrot CO2 Extract
Botanical Name: Radix Daucus Carota
Origin: Germany
CO2 Carrot highly stimulates the formation of new skin cells. It also stimulates the production of sebum in dry and scaly skin. It has also been proven to prevent and help with any existing skin sun damage.
 
Cape Chamomile Essential Oil
Botanical Name: Ericephalus Punctalatus
Origin: South Africa
Cape Chamomile is a wonderful supportive agent for skin healing, and particularly skin irritations. Cape Chamomile supports the skin's ability to regulate sebum and skin oil to encourage regular healthy skin for all skin types.
 
Bay Laurel Essential Oil
Botanical Name: Laurus Nobilis
Origin: France
Bay Laurel is highly recommended for the treatment of acne, as it is very anti-bacterial. Bay Laurel works well for reducing candida, when applied to the area infected with the candida. It is also an excellent immune system booster, which helps with all around health and well-being.
 
Instruction
Apply 3-4 drops of skin serum on fingertips and massage into slightly damp skin until absorbed.
Miracle Botanicals is the leading provider of Reiki charged pure essential oils that help people align with their Divine identity and return to their natural state of optimal health, abundance and well being. For more information, please visit http://www.miraclebotanicals.com.
The founder of Miracle Botanicals, Rev. Hope Johnson is devoted to being a clear channel for Divine inspiration and instruction. She is passionate about being a facilitator to expanding Consciousness here on the earth plane through her work and play. Her recorded spiritual insights can be found here: http://www.thewaytotheway.com