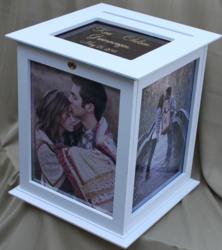 Wedding couples are getting more creative with engagement photo shoot!
Brighton, MI (PRWEB) October 24, 2012
The debate is over and the card box sale has begun. As we near the end of what feels like a life-long presidential campaign. A few things become clear. It does not matter if you are running for the top office in the land or planning a wedding. Presentation is everything!
Without question, both campaigns are making sure that their candidate is ready to go and every last detail has been tended to so the presentation of the candidate is with without fault until Election Day. Kelly Marie Collections is honoring the end of the debates with a 25% off sale on our card box!
Enjoy 25% off all of our photo holding card boxes during our end of the debate sale. It won't be long now and we will no longer have to endure the negative ads, endless commercials, debates and bickering. As an American company, we have put all of our card boxes on sale at 25% to honor the end of this long election campaign, allowing brides to celebrate and save with this discount.
Wedding couples are getting more and more creative with their engagement photo shoots. They are posing in fields, on dirt roads, next to torn down building that are covered in graffiti, and in doing so are capturing their unique style and some very cool engagement photos too.
Kelly Marie Collections and The Perfect Card Box® offers the only patented picture frame card box on the market that answers the need for a place to display these super cool photos and also hold the greeting cards brought by your wedding guests.
Wedding statistics tell us the 75-80% of wedding guests now bring a card with money to the wedding instead of a wrapped wedding gift. With the growing trend towards more envelopes combined with unique engagement photo sessions, Brides can take advantage of savings now.
The company began in 2007, in response to the need in the market for a product that offered a solution to these growing trends.
Kelly Marie Collections offers their patented photo holding card boxes to wedding couples from New York to LA and has seen tremendous success since the launch.
Kelly Marie Collections and The Perfect Card Box® offering a patented wedding card box to the wedding industry. Their products can be found at http://www.theperfectcardbox.com