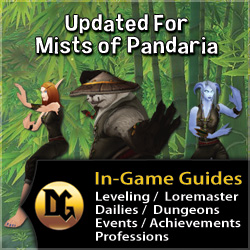 (PRWEB) October 22, 2012
Leveling up in World of Warcraft has always been considered a fairly easy but oftentimes slow process. That is until now; a new update to Dugi's Ultimate WoW Guide is seeking to change the status quo.
By helping players of classes that normally level up slowly (like the Paladin) break leveling records, Dugi's Ultimate WoW Guide is changing the game, literally.
The secret to Dugi's Guides incredible leveling speed is their signature add-on. This coding marvel is a software program that is installed on players' computers and then assists them in-game. However, this alone does not explain just exactly why Dugi's Ultimate WoW Guide provides such a fast leveling experience.
The real method through which Dugi's Guides helps players level faster is due to the overall plan that is captured by Dugi's Guide. Dugi's new Mists of Pandaria update has drawn out the fastest possible combination of which quests to complete, how to complete these quests, in what order to complete them when to pick them up, when to turn them in, and when to get new quests.
Once the fastest leveling path for a player's character and class has been established, a check-list is automatically generated by the software. The GPS-like system that powers Dugi's Guide then points players to the exact location of the next item on the self-generated check list. Even classes with low DPS will be able to level up much faster than any class without the guide. There is no grinding involved, just questing, so it is practically impossible to level up faster than the Dugi's Guide software directs players.
As an added bonus, Dugi's has also just released their Hallows' End update to their Dailies and Events guide. This uses the Dugi's Guide software to direct players through to a speedy completion of the Hallows' End event and all of the achievements that go along with this particular event. The creators will continue to release updates as more events are added to World of Warcraft.