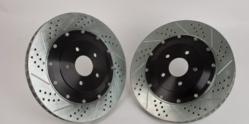 We are super excited to be able to offer our customers the quality and performance that Baer brakes is known for.
Marietta, GA (PRWEB) October 23, 2012
Southern Car Parts has been offering Corvette Parts and accessories for the Corvette for the last 5 years. Corvette brake rotors and braking systems have always been a high demand item and as Corvette drivers look to improve braking performance and OEM parts reach the end of their functional life, performance rotors are always something that customers are in need of. Because of this need, Southern Car Parts has established a wholesale agreement with Baer brakes.
Southern Car Parts is now offering the complete line of Corvette Eradispeed rotors, Baer Corvette Decelators, Camaro Decelarotors, and Mustang Decelarotors. The Eradispeed line of Baer rotors is considered to be one of the best performance upgrade rotors on the market The Eradispeed rotor is a true two piece rotor that is slotted and drilled for increased cooling and designed for the more performance minded driver. The Baer Decelarotor is a one piece rotor, more similar in performance to the OEM rotor but still considered an improvement over stock. Both the Baer Eradispeed and Decelarotors that Southern Car Parts is offering are direct replacements for the OEM rotors and will fit behind the stock Corvette wheels.
For 43 years Baer Brakes has participated in every type of racing and performance activity. Thru Racing, Baer Brakes first recognized the need for improvements in brakes for street performance vehicles. Baer is the brand most recognized among serious performance vehicle owners because they work better and deliver the best performance value.
For more than seven years Southern Car Parts has been developing a strong reputation and following in the performance automotive market and has expanded from only dealing with Corvette Parts and Accessories to also incorporating the Chevrolet Camaro, Dodge Challenger, Ford Mustang, Nissan 350Z and 370Z, and Nissan GT-R into their product line as well. In that time they've reached a wide and loyal consumer base who returns to them for their shopping needs as result of SCP's dedication to top-notch and expedient customer service and discounted pricing structure. The new partnership with Baer Brakes is certain to help SCP continue their growing positive reputation of high quality performance car parts and accessories for a wide range of vehicles