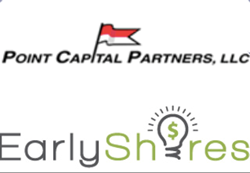 "Reg D Crowdfunding allows us to reach a much larger investor community. It democratizes access to capital for the job creators in our economy—small business owners." says Steve Temes, Co-founder and Chairman of EarlyShares.com
Miami, Fl (PRWEB) October 23, 2012
EarlyShares.com, Inc. ("EarlyShares"), the premiere crowdfunding platform, has entered into a partnership with Point Capital Partners, LLC under their subsidiaries EarlyShares Pro and Point Capital Markets, LLC ("Point Capital Markets"); prestigious veteran owned merchant bank and broker-dealer firm. The partnership will give EarlyShares the opportunity to operate on the Regulation D ("Reg D") side of crowdfunding on the heels of a proposed amendment to the Securities Act of 1933 powered by the Jumpstart Our Business Startups Act("JOBS Act") of April 2012, and operating under the supervision of the Securities Exchange Commission.
EarlyShares is a renowned crowdfunding portal, boasting a team of financial industry veterans, with a mission to create a secure, user-friendly platform that allows regular American citizens the ability to invest in businesses they know and trust in their communities. While, crowdfund investing is not currently legal, the partnership between the EarlyShares Pro subsidiary of EarlyShares.com Inc, and Point Capital Markets, will offer accredited investors the opportunity to tap into the private placements market. EarlyShares Pro will target companies that need to raise over one million dollars, connecting accredited investors with a pool of high quality private companies. In order to ensure quality of deal flow, Point Capital Markets will help facilitate the due diligence and other aspects of these deals.
"EarlyShares is very excited to have the opportunity to work with Point Capital Markets because of their in-depth knowledge of Reg D offerings and the impact they have made in the private placements market" says Steve Temes, Co-founder and Chairman of EarlyShares.com, Inc and successful investor with over 25 years of experience.
For Point Capital Partners, partnering with EarlyShares Pro will allow them to operate in the Reg D level of crowdfunding. "Early Shares is the thought-leader in crowdfunding. We are partnering to lead and innovate in this channel, and to provide the knowledge required of issuers to build successful businesses. Nothing excites us more than supporting the pioneering spirit of American entrepreneurs, the best in the world." says Richard Swift, Managing Partner at Point Capital Partners, industry veteran and experienced portfolio manager.
Prior to the JOBS Act, Under the Securities Act of 1933, any offer to sell securities had to be registered with the SEC or meet an exemption. Reg D offerings contain three rules providing exemptions from the registration requirements. These exemptions allow some companies to offer and sell their securities without having to register the securities with the SEC. However, these regulations did not cater to medium sized business owners wanting to publicly solicit investors. Under the proposed rules mandated by the JOBS Act, companies will be permitted to use general solicitation and advertising and offer securities to accredited investors (under Rule 506 of Regulation D of the Securities Act and Rule 144A of the Securities Act). "The partnership with Early Shares is a winning combination; the biggest winners, however, are the entrepreneurs and small business owners who have experienced the frustration of trying to grow while traditional avenues to capital formation have had ever-increasing friction" said Swift.
The EarlyShares Pro and Point Capital Markets partnership (subsidiaries of EarlyShares.com, Inc. and Point Capital Partners, LLC respectively) will operate under these new market regulations as soon as the Securities Exchange Commission finalizes them for Reg D crowdfunding. "The real excitement will come when we move forward with general solicitation for Reg D offerings; it will open up a new window of opportunities to investors, who will be able to invest in private companies they did not have access to before. This allows us to reach a much larger investor community. It's ground breaking," says Steve Temes. "It democratizes access to capital for the job creators in our economy—small business owners."
About EarlyShares.com
EarlyShares.com is an Equity Based Crowdfunding platform, launched by investment industry veterans offering a user-friendly web platform. EarlyShares securely connects high potential entrepreneurs looking for funding with investors looking for quality investments in early stage companies with investments starting at $100. To learn more visit http://www.earlyshares.com.
About Point Capital Partners
Point Capital Markets is a wholly owned subsidiary of Point Capital Partners, LLC, a designated veteran-owned merchant bank founded in 2003. Point Capital Markets integrates business and industry leaders, most of who come from a military background, with a vision to steward partner, client and investor capital in an ethically aligned and constructive manner. We operate with the ideals of leadership with character, personal accountability, service and esprit de corps. 10% of commission revenues at Point Capital Markets are donated to military and veteran charitable organizations. To learn more visit http://www.pointcap.com.
###
EarlyShares.com
1200 Brickell Ave. Suite 1410 Miami, FL, 33131 | (786) 565-3344