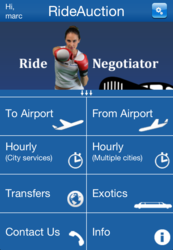 Bid & Ride at Your Price !
San Francisco, CA (PRWEB) October 25, 2012
It's now more fun to travel and get rides in the San Francisco Bay Area! With RideAuction's new online and mobile auction platform, everyone can get rides on their preferred date, time, vehicle, and budget. Commuters can make a reservation anytime and bid on SFO transportation and other Bay Area routes, point to point rides or hourly arrangements.
The talented team at RideAuction has realized the need for competitively priced personal transportation services in the San Francisco Bay Area so they came up with a solution to allow customers to interactively negotiate the best possible rate for private transportation. RideAuction customers can place a smart bid utilizing the company's website or mobile app. This tool calculates the average price for any ride within the customer's area. Customers may choose the confirmed ride which is a little higher than average price for the requested ride or place a bid lower than that amount. The bid request will be sent to tens of providers via SMS in real time and those who accept with the highest rating will be awarded the ride request.
In addition to customer based pricing, RideAuction is offering a "110% PRICE MATCH, BEST PRICE GUARANTEED!" promotion to SFO limo service. This means that if a customer has found a lower priced service, the company will match the competitor's price and then beat it by 10%.
Plus, RideAuction will give you access you to hundreds of pre-qualified vendors and fantastic deals all COMPLETELY FREE OF CHARGE. Just sign-up at http://www.RideAuction.com and you'll be getting and enjoying affordable rides all the time.
RideAuction can be reached @ cs(at)rideauction(dot)com or 888-884-3077