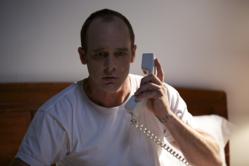 "RIDES.tv provided a landscape to tell a horrifically interactive story like we've never been able to do until now" said filmmaker and director, Toby Wilkins.
Los Angeles, CA (PRWEB) October 23, 2012
Emmy Award-winning Fourth Wall Studios has released the fourth installment of their Dark Wall horror anthology, "6:14," the story of a man caught in an endless nightmare. The transmedia short is available to view for free now on Fourth Wall Studios' platform, RIDES.tv.
Directed and co-written by acclaimed horror filmmaker Toby Wilkins (SPLINTER, THE GRUDGE 3), "6:14" is about a man (Ethan Embry, Brotherhood, Eagle Eye, Vacancy, Kidney Thieves, Disturbing Behavior) woken from his sleep by a phone call, with a stranger (Michael Ironside, Justified, X-Men: First Class, The Butcher, Masters of Horror, V, Scanners) on the other line. Puzzled by the call and the peculiar look of the room he's in, he leaves his bed to inspect his surroundings. Unfortunately for him, his curiosity leads him to a deadly morbid encounter that he cannot escape. Just as he believes this to be the end, he wakes up again, in his bed, with the phone ringing again. Was it all a nightmare? A delusion? Or something far more terrifying?
"RIDES.tv provided a landscape to tell a horrifically interactive story like we've never been able to do until now" said filmmaker and director, Toby Wilkins. "The platform developed by Fourth Wall Studios allowed us to blur the lines between what is occurring in the real world against a dreamlike state and to tell a story in a completely immersive manner. I'm excited that genre fans will get to experience this kind of gruesome interactive short just in time for Halloween."
"You know when you are asleep and the alarm going off in the real world is re-purposed by your subconscious to come across as someone screaming at you in a dream? That is the landscape of the story we wanted to tell" said Zach Schiff-Abrams, executive producer at Fourth Wall Studios and co-writer of 6:14. "We wanted to make something visceral and Toby Wilkins was a huge win for us. He constantly challenged the development and production of 6:14 to both define a great horror short and a unique use of our platform."
Other talented crew involved with the project include Director of Photography: Brandon Trost (CRANK 2, GHOST RIDER: SPIRIT OF VENGENCE); Executive Producers: Zach Schiff-Abrams, Jim Stewartson, Elan Lee and Sean Stewart; Produced by Behnam Karbassi and Steven Gould.
DARK WALL's 6:14 leverages cutting-edge technology of the RIDES.tv multiscreen entertainment platform and offers an experience that brings this horror to life. The audience becomes a part of the story.

Experience reality juxtaposed against the main story of the character's dreams. Hear the screams of someone in the real world transposed as a fire alarm going off in your dream
Reveal clues to unravel the mystery of the story. Unlock materials that provide insight to the framework of the narrative.
Viewers can access all of Fourth Wall Studios' content including "6:14" for free at http://www.RIDES.tv. Like RIDES on Facebook, follow Rides on Twitter or add to your circles on Google+.
ABOUT FOURTH WALL STUDIOS
Fourth Wall Studios develops, distributes and markets content that crosses the traditional barrier between audience and onscreen action, resulting in entertainment experiences that are more connected, immersive and real. Founded in 2007 by three award-winning, next-generation storytellers, Jim Stewartson, Elan Lee and Sean Stewart, the venture-backed, Culver City, CA-based company develops a wide range of interactive entertainment properties designed for RIDES.tv, their proprietary transmedia entertainment platform. RIDES are immersive, narrative experiences that deliver an unfolding story across multiple screens via web browsers, smartphones and tablets.
Their first major series for RIDES, "Dirty Work", recently won a Primetime Emmy® Award for Outstanding Creative Achievement in Interactive Media: Original Interactive Television Programming.
PRESS CONTACTS:
Gillian Smith (323) 822-4800 gsmith(at)id-pr(dot)com
Judy Merrick (323) 822-4800 jmerrick(at)id-pr(dot)com