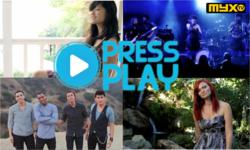 Once people hear what we have prepared for them, they will love it, love the people we are, and what we represent.
Redwood City, CA (PRWEB) October 23, 2012
Myx TV's Press Play turns up the heat on its fourth week of releasing singles by independent music artists from around the country. Eleven acts join the race for the stage on Press Play's fourth episode for the national TV premiere of their original music video and an in-studio performance at the Myx TV studios in California. The polls are open from October 22 til October 29, 12pm pacific time on Myx TV where the winner takes all, headlining the episode that airs on November 30.
The competition gets tough as the talent raises the bar on week four of Myx TV's Press Play. New Orleans is known around the globe for its rhythm and blues and rock and roll but newcomer, Stefan Solea heads the line up with his single, "Blown Up." Watch out for this artist who is also creator of his own genre, trap metal.
Former opera singer and professional ballet dancer-turned-pop artist, Allison Gray, debuts "Break Me." The Los Angeles-based artist brings beautiful melodic story-telling with Malibu as her video's backdrop. Be on the lookout for pop artist Mike Isberto of Fullerton and his track, "Unexpected." Sum-in-1 brings an experimental hip hop flavor to this week's Press Play line up. Check out the LA artists' track, "Dat Yen." As we take you from LA to the Bay, check out Vietnamese-Chinese-American artist, WITTY, of San Francisco with "Yo Body" that showcases an electronic hip hop sound. He says, "I have a diverse style and sound. I rap and sing and don't plan to stop there."
Superstardom has already been within arm's reach for Seattle alternative rock band, The Adarna. In July 2012, they were highly ranked among over 3,000 rock bands in the WHOOZNXT competition sponsored by Guitar Center, to tour with legendary guitarist, Slash, of Guns N' Roses. Check out their single "Honestly."
And the story is no different for Los Angeles-based rock jazz act Random Ninjas whose claim to fame has been sharing the stage with a music legend. "I played a Metallica song for my wedding reception in my wedding dress which led me to play with Metallica on stage last year." Check out "Random Heroes."
T-Ran Gilbert began performing at age 13. The Tennessee hip hop and R&B artist's fanbase crosses the Pacific, having done shows in Mongolia and China. This week, he brings his single, "Need You Now" to the show. Singer/songwriter Tony T Nguyen of California believes in an involved process of creating music. "From concept to consumer, I'm hands on and produce everything myself." Check out his single, "She Knows."
For many artists, musicality begins early. Pop folk artist Alfa of Los Angeles began her musical coming-of-age at 5 when she began playing the piano, violin, guitar, and ukulele. A songwriter since age 14, she has been heard on MTV and honored by the NY Songwriters Circle. Another stellar find by national competition, Kollaboration, she brings her single, "Missed Opportunity."
Radio for the People of LA brings their unique electronic pop sound with "Get Wid It." "Once people hear what we have prepared for them, they will love it, love the people we are, and what we represent."
Vote for your favorite artists on Myx TV where you decide who gets played! Log onto http://www.myx.tv for more details.
ABOUT Myx TV®:
Myx TV is the premier Asian American entertainment and lifestyle cable network in the United States. Dedicated to airing the best in entertainment, Myx TV's programming is a unique combination of original and syndicated shows, including magazine talk shows, interactive music video countdowns, independent film and Asian cinema, and animation, airing 24/7 in English. Broadcast in over 10 million households across the country it provides a platform for Asian Americans on mainstream television and is also represented on its official website by a community of bloggers from coast-to-coast. To find Myx TV in your area and for exclusive content online, visit http://www.myx.tv.