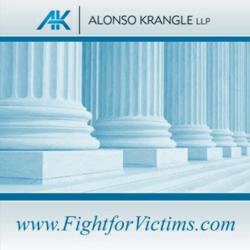 To discuss a potential claim with one of the experienced and compassionate child safety lawyers at Alonso Krangle LLP, please contact us at 1-800-403-6191 or visit our website, www.FightForVictims.com.
Melville, NY (PRWEB) October 23, 2012
From October 22 through October 26, 2012, the New York-based National Association for Pupil Transportation (NAPT) will be sponsoring a national campaign – Operation Safe Stop – to bring awareness to school bus safety laws. With this year's theme being "I See the Driver. The Driver Sees Me!," the 2012 National School Bus Safety Week is intended to remind other drivers' on the road of how important it is for them to stop and be especially cautious at school bus stops; the goal is to reduce the incidence of car accidents and deaths that occur each year at school bus stops. [http://www.safeny.ny.gov/opsafstp.htm
The personal injury attorneys at Alonso Krangle, LLP are prominent for their fierce representation of victims' rights following any type of traffic or motor vehicle accident. In addition to assisting victims of bus accidents, our skilled lawyers have also helped litigate cases involving personal injury, wrongful death, and motor vehicle accidents. We encourage victims to learn more about their rights by speaking with our traffic accident attorneys.
Currently, the law stipulates that, should drivers illegally pass stopped school buses with flashing red lights, they can face between $250 and $400 in fines, have 5 points added to their driving record and possibly go to jail for 30 days, if convicted. Upon a second or third conviction of these charges (within 3 years of the first incident), drivers can receive up to 180 days in jail and other harsh penalties.
[http://www.nyapt.org/news/nyapt-to-promote-school-bus-safety
As part of the 2012 campaign, the National Association for Pupil Transportation is strongly encouraging its members to remit letters focused on school bus safety topics to editors of various publications. Another key element of National School Bus Safety Week is recognizing the many professional bus drivers, crossing monitors, mechanics and other transportation staff who are consistently devoted to ensuring the safety of the children. According to the School Bus Information Clearing House (a division of the NAPT), there is a significantly lower incidence of passenger and pedestrian fatality associated with school buses than with passenger vehicles.
Specifically, while school buses transporting about 25 million children are associated with approximately 5 passenger deaths and 15 pedestrian deaths at school bus stops each year, pedestrian vehicles taking kids to and from school are associated with more than 160 passenger deaths and approximately131 pedestrian fatalities at school bus stops. The numbers further increase – to nearly 450 passenger deaths – when factoring in teenage drivers transporting children. [http://sbi.elitedecision.com/index.php?option=com_content&task=view&id=17&Itemid=34
Despite the lower incidence of traffic deaths associated with school buses, however, the NAPT's message is that the death of any child is one too many, and it is everyone's responsibility – school bus drivers, other drivers on the road, pedestrians, cyclists and children riding the bus – to do his part to follow the laws in order to minimize accidents, reduce school bus stop fatalities and promote optimal safety.
About The Law Firm of Alonso Krangle LLP – Bus Accident Lawyers Who Can Help You
Andres Alonso and David Krangle, attorneys with almost 40 years of collective legal experience, have focused their law practice on the handling of significant personal injury cases, defective drug and medical device litigation, construction site accidents, nursing home abuse, medical malpractice, whistleblower actions and consumer fraud cases. A leading law firm representing injured victims throughout the U.S., Alonso Krangle LLP is headquartered in Long Island, New York, with offices in New York City, and New Jersey.
For more information about Alonso Krangle or to join the fight and be a part of our team, please contact us at 1-800-403-6191 or visit our website, FightForVictims.com.
For more information about Alonso Krangle or to join the fight and be a part of our team, please contact us at 1-800-403-6191 or visit our website, http://www.fightforvictims.com
Contact:
Alonso Krangle LLP
445 Broad Hollow Road
Suite 205
Melville, New York 11747
Toll-FREE 1-800-403-6191
Tel: 516-350-5555
Fax: 516-350-5554