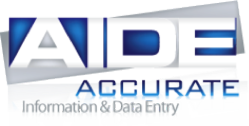 "The bottom line is that using handwritten forms to gather customer geographic data from Texans can be more economical and more efficient than other data gathering techniques such as phone, email, or face to face," says Mark Petersen, President of AIDE
Dallas, TX (PRWEB) October 23, 2012
Recently, AIDE Data analyzed over 100,000 handwritten forms filled out by Texas residents to set benchmarks for Texas companies and compare Texas customer responses to the rest of the country. This study shows that Texans on average are more willing to provide street addresses, phone numbers and email contact information on sign up forms than the rest of the nation. It also shows that regardless of in-state geography Texans show similar response patterns.
Texans are more willing on a signup form to provide a complete street address than other ways to contact them such as an email address or phone number. Ninety-four percent of Texas respondents provided a complete street address. In this study 92% were recognized and standardized by the US Post Office Zip4 system. These figures are on par with what AIDE has seen on a national level of 91% of respondents providing an address and 93% being verifiable by the Post Office.
Despite Texas' geographic size and cultural diversity, the address matching rate does not vary much by area: a respondent in Beaumont is as equally as likely as someone from Amarillo or El Paso to provide a street address.
"Our signup form analysis shows several interesting things about Texas customer behavior, and the biggest finding in our analysis is that 92% of all handwritten addresses are able to be recognized and standardized by the USPS, " states Mark Petersen, President of AIDE Data. "The bottom line is that using handwritten forms to gather customer geographic data from Texans can be more economical and more efficient than other data gathering techniques such as phone, email, or face to face. Marketers looking to create eClubs, sweepstakes, rebate programs and the like can feel confident that, when done correctly, they can get great accuracy rates and build a valuable database from initiatives to collect paper forms."
The 94% street address figure for complete addresses compares with 84% of Texans who are willing to provide a phone number and 64% who provide a complete email address. Compared to what we see nationally both of these numbers are high. Across the US, on average 78% will provide a phone number and 53% will provide an email.
"In general Texas are willing to trade their information more often than we see in most areas of the country if they think they will get something valuable in return," comments Mr. Petersen. "Even the prospect of receiving a coupon or chance to win a prize of nominal value can make an enormous difference in the accuracy and completion rates, especially for email addresses."
AIDE Data, a leading data entry firm since 2005, has entered over three million records with customer information covering a wide span of industries including: medical, charitable causes, investigative findings, public events, automotive, insurance, restaurants, consumer products, home
repair, sports teams, retail stores and discount cards.
_______________________________________________________________________________
About AIDE Data
Since 2005, AIDE has provided data entry, data management , database and online retail solutions to clients across USA and Canada.