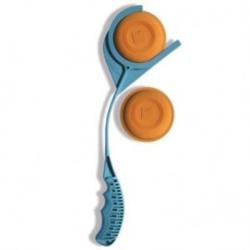 Cool, New, and Fun for You and Your Pooch!
Coconut, FL (PRWEB) October 23, 2012
We've all heard the adage that all work and no play makes Jack a dull boy. Finding time to play is central to a well-rounded life. Of course, playtime is not just for humans; their furry friends also reap many benefits, especially if they play with their owners. "Engaging play provides pups and their people with social and bonding opportunities and helps maintain good physical and mental well-being," comments Joe Alba, director at Wholepetdirect.com. "As with humans, it fosters cardiovascular and lung health, keeps joints limber, and helps maintain bone strength. It also promotes mental health, encouraging the dog to strategize and plan their playful day."
No one knows the benefits of play better than World Pet Direct. This online pet product vendor offers a broad selection of stimulating and entertaining dog toys. This week, it features the Kurga Winga Starter Set .The Kurga Winga is an innovative interactive toy that involves dog owners in their furry pals' outdoor play. Taking "fetch" to a whole new level, the Kurga Winga gives the game bionic power with a high-density polyethylene launcher that sends Fido's disc up to 200 feet away. Engaging for both dog and owner, this supercharged fetch for the new millennium provides plenty of exercise to high-energy dogs. Dishwasher-safe, the sure-grip launcher can be used by lefties, too! The Kurga Winga Starter Set is available from World Pet Direct for $19.98. The retailer offers flat-rate shipping of $5.75 per order—with FREE shipping on orders over $100.00.
Whole Pet Direct is a well-stocked online boutique featuring supplies selected by experienced dog care specialists. Purchasing from this popular outlet offers the buyer not only great products at great prices, but also promotes dog rescue and adoption. Mindful of the many benefits dog ownership offers, Whole Pet Direct generously supports this cause. "We are very proud to have partnered with Big Hearts for Big Dogs Rescue," Joe states. "This non-profit 501(c)(3) organization is devoted to rescuing and placing dogs for adoption, and we happily donate 5% of all sales that are made through the referral link at Big Hearts for Big Dogs."
Whole Pet Direct invites you to visit their website click here to select the Kurga Winga Starter Set--or from myriad other quality toys and pet products.