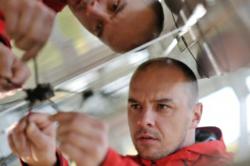 Unlike other security industry players, SecurTek does not compete with its dealers. SecurTek recognizes the knowledge local retailers have of the security environment where they operate.
Toronto, Ontario (PRWEB) October 23, 2012
SecurTek, Canada's fastest growing security monitoring provider, is embarking on its most ambitious dealer recruitment drive to date. The company is introducing new Access Control, Home Manager and Videofied solutions at the Canadian Security Association's Security Canada Central in Toronto this week. The new products come with a slate of information resources designed to help dealers win over customers on value, product personalization and ease of use.
"The message to our dealers is: we need you to help us better serve our customers, and it will make a difference on your bottom line," according to SecurTek CEO Barry Rogers. "You will profit from becoming an official SecurTek dealer and our business model makes it easier for you to do so."
Unlike other industry players, SecurTek does not compete with its dealers. SecurTek recognizes the knowledge local retailers have of the security environment where they operate. SecurTek Monitoring Solutions' ability to partner with dealers, allows the company to focus on technology, monitoring innovation and customer service. And it's just the beginning, notes Rogers:
"We are investing in Ontario, Maritimes, BC, Alberta and Manitoba markets. We know our business model works for our partners. We develop mutually-beneficial relationships. As a result, our dealers and wholesalers help us set new standards of quality for the industry."
Brent Pollock agrees. He is President of International Crowd Management(ICM) in Vancouver, an Authorized SecurTek Dealer. His company was attracted by SecurTek's financial stability, its technological know-how and overflow capabilities, in addition to its focus on growth:
"We are currently in an expansion mode, looking at various markets. They've got the best people, the best equipment, and in turn, we make that available to our clients. Security is on the upswing -- people want to feel secure. It is a growing business and it will be for many years to come."
With SecurTek, dealers know their customers are not left hanging when they need help. Authorized Dealers can access attractive co-op marketing programs, online support, print and video materials to generate more leads and sales conversions. SecurTek monitoring station attendants are available 24/7, and the customer leads SecurTek generates are always channeled back to dealers -- that's a winning proposition time and time again.
About SecurTek:
SecurTek is a leading provider of monitoring solutions and event related information services through an extensive dealer network and strategic partnerships, for 70,000 customers across Canada. A subsidiary of SaskTel Telecommunications, SecurTek earned the Five Diamond Certification for providing superior monitoring service in the North American security industry, awarded by the US-based Central Station Alarm Association (CSAA). SecurTek monitoring stations are Underwriters' Laboratories of Canada (ULC) certified, meaning SecurTek meets or exceeds the highest industry standards with regards to call overflow, staffing requirements, response procedures, computer systems and backup power systems.  SecurTek offer burglary, commercial, fire, environmental, medical, video and residential monitoring services.