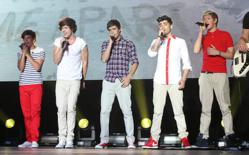 New York, NY (PRWEB) October 23, 2012
Z100 Jingle Ball tickets are now available for the gala affair at Madison Square Garden with headliners Taylor Swift, Justin Bieber and One Direction. This is a once-in-a-lifetime concert event that no one should miss.
This coming December 7th, the concert scene will never be the same again with the massive event that will take place at Madison Square Garden - the Z100 Jingle Ball!
This will be a Christmas concert featuring some of the finest recording artists of this generation. The main guest performers are Justin Beiber, One Direction and Taylor Swift with guest performers like Jason Mraz, The Wanted, Olly Murs, Fun, B.o.B, Ne-Yo and Ed Sheeran.
It's gonna be an unforgettable evening with the hottest artists entertaining the audience with their hits. Various radio stations around the country host Jingle Balls which showcase top notch entertainment to get folks in the mood for the holidays. Often there are freebies and other surprises awaiting concertgoers at annual Jingle Balls.
Here's a closer look at the artists featured in this year's Madison Square Garden extravaganza:
Justin Bieber is one of today's hottest celebrities and artists, He started at an early age in the industry and quickly became known as the new pop icon. His hits include the catchy "Baby" and he is constantly featured on TV and on the cover of entertainment magazines.
Niall Horan, Liam Payne, Zayn Malik, Louis Tomlinson and Harry Styles are collectively known as One Direction. These boys from London are part of the modern British invasion. They got their big break after finishing third in the reality music competition X-Factor. This band became popular with their romantic love song hit One Thing. The name "One Direction" quickly became a household name in just about every house in North America which had teenage girls living in it. The emergence and amazing popularity of this newest boy band has been called "The British Invasion" of the this generation.
Taylor Swift will also be joining these artists in singing and rocking the house. The singer, songwriter and actress can play the guitar, banjo, ukulele, and piano, and is one of the artists that you should not miss. She is the artist behind the hits "Fearless," "White Horse," "We are Never Ever Getting Back Together," and many more. Watching Taylor Swift is an opportunity for you to witness a multi-talented artist. She is also a sweetheart and Ethel Kennedy, widow of the late Bobby Kennedy, considers Taylor to be a close friend and confidant.
Aside from the above mentioned artists, there will also be other artists who will be performing. Jason Mraz has already said on his twitter accounts that he is so excited to perform on the said date along with The Wanted, Olly Murs, Fun, B.o.B, Ne-Yo and Ed Sheeran.
The Jingle Ball is more than just an annual Christmas concert. It is more about celebrating with music fans and Z100's way of saying "thank you" to those who continue to support their station for years. There will also be autograph signings, photo opps and celebrity souvenirs that will be given away. Do not miss this opportunity to mingle with your favorite music artists. You can reserve your tickets for the Z100 Jingle Ball at Madison Square Garden today!
About CheapConcertTickets.me:
CheapConcertTickets.me delivers tickets to sold out concerts and events worldwide when no one else can, and they do so at discounted prices. As a member of TicketNetworkDirect, they can guarantee the delivery of tickets on time for sporting events, NASCAR, NBA, NFL, and NHL, and for the Z100 Jingle Ball at Madison Square Garden and Book of Mormon Tickets. With CheapConcertTickets.me customer service is a priority, for more information email support(at)cheapconcerttickets(dot)me.