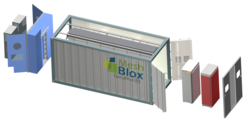 We developed this product range in close consultation with mining companies for their needs.
Sandy, UT (PRWEB) October 24, 2012
MeshBlox, a global provider of remote data and telecommunications systems for use in difficult environments, today announced the DataBlox range.
The DataBlox technology allows new mining exploration camps around the globe to commission site data and telecommunications in as little as eight weeks with confidence that the systems are ruggedized, highly maintainable, and the assets are re-deployable. In the case of existing mine sites the DataBlox units can also provide drop-in data centre housing for process control systems in close proximity to site plant while other DataBlox units can provide blanket mobile data and voice coverage.
MeshBlox VP of Marketing, Miles Gillham said "We developed this product range in close consultation with mining companies for their needs. We didn't lecture them on how ICT works or how long they would have to wait, instead we asked how they wanted to work and built to that specification. It really boiled down to cost, delivery time, fitness-for-purpose, and partitioned work access so that on-site modular part replacement is simplified with the minimum staff certifications."