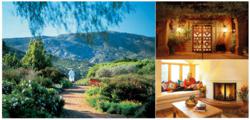 for over 70 years, Rancho has been a polished diamond in the world of health spas
Baja, California (PRWEB) October 23, 2012
What does it look like when the "World's Best Destination Spa" (Travel + Leisure Magazine) combines with one of the "Ten North American Spas that will recharge your mind, body and soul" (Outside Magazine)? The result is Mountain Trek at Rancho La Puerta in Baja California, for two weeks in November. For over 70 years, Rancho has been a polished diamond in the world of health spas, with beautiful facilities, excellent cuisine, well-manicured grounds and rolling private lands. Mountain Trek, the energetic, youthful partner, offers fitness and weight loss health retreats from it's home base in the beautiful mountains of British Columbia. Together, they are an unbeatable team for a luxurious spa retreat experience and metabolic renewal.
Just one hour south of San Diego, but a world away from coastal fog, Rancho La Puerta offers nearly year round sunshine. This makes it a welcome break for guests from colder, damper climates who may find the transition into winter difficult to manage. Fun activities including dance, drumming and yoga, plus the inspiring facilities and fresh, gourmet vegetarian food make it easy for each guest to relax into vacation mode. Rancho enjoys the highest rankings on respected travel sites, like Conde Nast Traveller where one guest posted:
"Just returned from my second trip and I am planning my third. A perfect environment to relax, or exercise, take treatments, stare at the magnificent scenery. Absolutely perfect and attentive staff. And the food? As perfect as everything else. It is magical."
The Mountain Trek retreat weeks at Rancho are unique. Small groups, limited to 16 guests, are immersed in the Rancho paradise but have a special focus on daily hiking in the rolling landscape of the property. Each guest can hike at their own pace with others of similar ability, with an experienced Mountain Trek guide to lead each small group. This allows everyone to have a high level of attention, including injury prevention, foot care and hiking technique tips, while pushing metabolism to a higher level. Mountain Trek also offers daily sessions about nutrition, stress reduction, sleep health and developing healthy lifestyle habits. No other program offers the same level of individual attention and education, making it easier for guests to make lasting, positive lifestyle changes.
Mountain Trek staff aren't 20 somethings. Each member of the team is within middle age, and they embody how fitness and good nutrition create long-term potential for health and vitality. Guests can reflect with the guides on the small daily choices that keep metabolism running well, even in the face of adult pressures and responsibilities.
Mountain Trek will offer programs at Rancho La Puerta November 10 -24th, February 9 - 23rd and March 9 - 23rd.