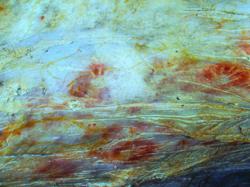 Standing next to something painted thousands of years ago by our ancestors, and now possibly Neanderthals, is really hard to wrap your mind around
Santander, Cantabria, Spain (PRWEB) October 24, 2012
Europe´s oldest art is not in Rome or Paris, but underground in Northern Spain. Containing works of art more than 40,000 years old, the UNESCO has designated 18 caves in the area as World Heritage Sites, considering them to be of outstanding value to humanity. Northern Exposure Spain´s recently launched Cave Art Tour allows participants to gain an in depth understanding of Europe´s earliest art.
The Altamira cave in Cantabria has been a UNESCO World Heritage Site since 1985. The UNESCO expanded this designation to include 17 additional caves in Northern Spain in 2008. A recent study done using new techniques, has determined that some of the paintings in these caves are over 40,000 years old, making them the oldest in Europe.
The results of the study were published in Science, the world´s leading journal of scientific research, and stated "Paleolithic cave art is an exceptional archive of early human symbolic behavior... the results demonstrate that the tradition of decorating caves extends back at least... 40.8 thousand years." As a result the study also concluded its finds "reveal either that cave art was a part of the cultural repertoire of the first anatomically modern humans in Europe or that perhaps Neanderthals also engaged in painting caves."
Each of the caves under the UNESCO World Heritage designation is unique from an artistic point of view but also from the limitations and restrictions on visitation. Some caves cannot be visited at all, while others severely restrict visitations and yet others pose physical limitations for many visitors. In depth knowledge, including the art, restrictions and physical limitations of each one are essential to making any visit to the caves go smoothly. As with many sites in Northern Spain, having a native English speaking guide is key as visits to most of these sites are only conducted in Spanish.
Northern Exposure Spain´s recently launched Cave Art Tour is designed to ensure visitors get the most out of the caves, gaining an in depth understanding of the oldest art in Europe without having to negotiate Spanish bureaucracy, navigate Northern Spain´s labyrinth of roads or know Spanish. The Company handles all of the details that can make the experience of visiting the caves on your own such an arduous and time consuming endeavor or even worse, one that leads to disappointment.
Recent Cave Art Tour participant Ellen Daly of New York, shared, "I want to thank you for the wonderful experience I had. I have travelled extensively in Europe and the United States and can say that I have never had a tour guide as knowledgeable. I had so much fun, learned so much about Northern Spain and am still in awe of the caves."
Charles Schwalbe Garcia-Lago, Northern Exposure Spain´s Chief Experience Officer (CEO) first visited the caves more than 30 years ago. "I´ve been in the caves so many times, but it never gets old," he mentions ironically. "Standing next to something painted thousands of years ago by our ancestors, and now possibly Neanderthals, is really hard to wrap your mind around. Viewing a 17th century masterpiece at the Prado or the Louvre seems inconsequential after seeing this. Transmitting that to our clients and sharing this unique experience is one of the most rewarding things we do."
Charles and his Company have been sharing the caves with visitors long before launching this Cave Art Tour. "Cantabria is famous for some of the finest prehistoric painted caves in Europe. Charles was able to set up impromptu visits to seldom-seen caves. He seems to know everyone and his knowledge is profound," commented Rob Swigart of California, a Northern Exposure Spain client that returned for a second tour this year after visiting in 2011.
Northern Exposure Spain´s Cave Art Tour offers travelers the opportunity to contemplate Europe´s oldest art, first hand and without any of the hassles or disappointments of going it alone. Interested travelers can learn more about the Company and planning their unique visit to Northern Spain here, or contact Charles Schwalbe directly at 888-737-8146.
About Northern Exposure Spain
Northern Exposure Spain provides unique, custom tours in Northern Spain. Based in Cantabria, at the heart of Green Spain, the Company tailors tours to client preferences and interests, highlighting the history, cuisine, wine, culture and natural beauty of this lesser known but surprisingly rewarding area of Spain.