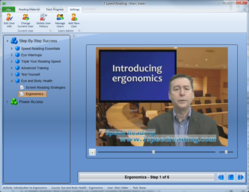 No other speed reading software uses targeted techniques such as eye-muscle fitness, subvocalization elimination, and optic-nerve optimization.
New York City, NY (PRWEB) October 28, 2012
According to Boffin, expert software reviewer, the number one speed reading software out there is 7 Speed Reading. This software has been selected because it's effective, uses scientific methods while remaining engaging for the user, but above all because it's comprehensive.
Making the point that the best speed reading software is the one that not only combines all the positive aspects of such a system, but also rates highly on each aspect, Boffin considers 7 Speed Reading to be the only speed reading software you'll ever need to invest in. From engaging instructional videos to trackable progress, 7 Speed Reading gives its users a complete speed reading experience that is proven to be effective.
The review emphasizes how 7 Speed Reading, unlike other similar software packages, has an abundance of games, exercises, and activities that are all based on research designed to provide better results. No other speed reading software uses targeted techniques such as eye-muscle fitness, subvocalization elimination, and optic-nerve optimization.
Upon learning that 7 Speed Reading received this first-place ranking, Marc Slater, director of 7 Speed Reading, commented, "We are pleased to see that the professional world has started paying attention to how beneficial speed reading can be in our information-heavy society. A lot of hard work has been put into the making of 7 Speed Reading and our team feels flattered and content that their work is acknowledged by leaders in the field."
The most significant aspect of 7 Speed Reading that Boffin focuses on is how efficient it is in improving the user's reading speed in a relatively short amount of time. The reviewer argues that this is the case because the software's creators have managed to transform scientific advances into user-friendly and accessible exercises. By combining play with practical strategies for improvement, the user will enjoy using the software while they get the benefits from its well-researched exercises.
"Seeing 7 Speed Reading being heralded as the number one speed reading software has been a goal for us since we first started discussing its development. We see this as a great accomplishment and we look forward to making 7 Speed Reading even more efficient and engaging in the future," concluded Slater
For more information on how you can improve your reading speed please visit http://www.7speedreading.com.
About 7 Speed Reading™
7 Speed Reading is the only modern speed reading software that uses the latest technology to produce superior results.
The software provides its users with a new way to master speed reading that guarantees three times the reading speed along with improved memory and comprehension.
The software is poised as the most comprehensive speed reading system anywhere. It contains seven learning strategies, fifteen software activities, video training, advanced tracking capabilities and many more exciting features.