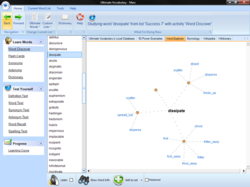 ...the ability to look through an extensive list of examples of words used correctly in context is essential for knowing how to use vocabulary words in real life situations...
New York City, NY (PRWEB) October 29, 2012
Just like any other improvement software, Ultimate Vocabulary is constantly reviewed by its users and language experts alike. Today, Ultimate Vocabulary announced its gratitude for a positive and honest review given by Derek McKenzie, the man behind Word Buff.
There have been many Ultimate Vocabulary software reviews, but this one by Word Buff is significant in that it highlights out all the positive and strong points of Ultimate Vocabulary, fully recognizing its effectiveness and potential, while giving honest feedback and suggestions about all aspects of the system.
In his well-thought-out, fully detailed review, Word Buff explores all of the good, and also what are in his opinion not so good, aspects of Ultimate Vocabulary. In his final verdict, he states, "... compared to other programs, Ultimate Vocabulary is by far the most sophisticated vocabulary builder I've used to date, and, as I mentioned earlier, it has become my default program for building my own vocabulary (and with a site dedicated to words, I do get to try quite a few)."
Word Buff gave high marks to the smart and user-friendly features of Ultimate Vocabulary and was explicit in his enthusiasm for features like 50 Power Examples and Word Explorer. As the reviewer noted, the ability to look through an extensive list of examples of words used correctly in context is essential for knowing how to use vocabulary words in real life situations, and understanding the connections between words is key to perfect word mastery.
Underlining the importance of visual aids, Word Buff also praised another powerful Ultimate Vocabulary feature: the ability to have personalized, user-chosen images accompanying definitions to help users better memorize and recall word definitions.
Marc Slater, the director of Ultimate Vocabulary, said after reading this review, "We are very pleased to receive such a favorable review by an industry expert who knows the tricks of the trade. It is always encouraging to see how all the hard work we have put into Ultimate Vocabulary has paid off. Reviews are significant and we do take them into consideration as a way of improving and developing further our software. All of the arguments and points made by Word Buff are welcomed."
Ultimate Vocabulary integrates the latest vocabulary improvement developments into each new release, and is closely following the latest trends and research so as to provide its users an efficient learning experience. "This review by Word Buff testifies that we do our job well," said Slater. "I'd like to thank all the developers, scientists, and linguists that have worked on the Ultimate Vocabulary system, and look forward to keeping Ultimate Vocabulary at the top of every reviewer's list."
For more information about what language experts have to say about Ultimate Vocabulary please visit http://www.ultimatevocabulary.com
**********
About Ultimate Vocabulary™
Ultimate Vocabulary provides a proven and powerful platform, built to improve anyone's vocabulary.
The interactive self-improvement system provides more learning tools than any other program on the market, as well as more information on words.
The Ultimate Vocabulary software provides each and every user with a personal computer tutor. Providing a step-by-step guide to learning a powerful vocabulary, Ultimate Vocabulary is the learning tool everyone can benefit from.
Of course, the software is also backed by eReflect's iron-clad money back guarantee.