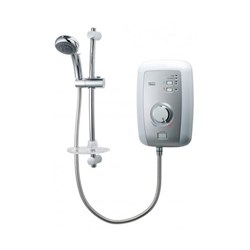 The company have increased their range of electrical showers by stocking two new products by Triton.
(PRWEB UK) 26 October 2012
As the range of bathroom products are increasing in the market, new technology, designs and styles are being released by the finest of manufacturers in the UK. Having the latest products is key when wanting to supply the most modern items to home owners. Bella Bathrooms understand the needs of consumers and always update their stock to provide nothing but fresh products at cheap prices. The company have increased their range of electrical showers by stocking two new products by Triton.
Bella Bathrooms now sell the Triton Perea Electrical Shower in two different power variants at 8.5kw and 9.5kw to help home owners select the appropriate choice for them. The stunning design features a white and brushed steel finish ideal for any modern bathroom suite as it provides a clean and simplistic visual effect. The design allows it to easily co ordinate with any suite.
The Perea is a premium shower at an affordable price marked with Tritons stamp of quality and reliability. It provides extremely good value for money and cannot be beaten amongst other contenders in the market. As Triton have been one of the most influential British bathroom companies over the past thirty year, the new products are guaranteed to provide high quality backed up by a company guarantee.
Many different key features are also implemented within the new Perea electrical shower. The unit contains temperature control to enable the opportunity of gaining the perfect heat. This is therefore a perfect unit for families as temperatures can be limited to avoid risk of burning.
The Perea electrical shower has had great, positive showers by customers that have purchased the unit. It is valued high in style, ease of use, quality and value for money. The slim design provides a modern feel and fits perfectly in any shower enclosure adding a touch of both class and style. It is also easy to use and provides a great opportunity for first time buyers to gain a superb unit at a cheap price
Bella Bathrooms stock a wide range of electric showers from Triton Showers ranging in price, designs and powers enabling home owners to gain the ideal unit for their shower enclosure. As various finishes are available, the company can provide something for any décor to help create a stylish overall look. The company website is easy to use and features all products within one location. Finding exactly what is needed has never been easier.
About Bella Bathrooms:
Bella Bathrooms is one of the finest UK online bathroom retailers based in the North-East of England and offer continuous great deals of bathroom refurbishments, shower, towel rail and radiator updates, stylish bathroom furniture and various other key elements at prices that are guaranteed to be unsurpassable. The latest updates continuously made have further improved the overall quality and they have set a high standard for things to come in the future.
Bella Bathrooms
Tel: 0844 8117 017
Available to contact from 9am – 5pm