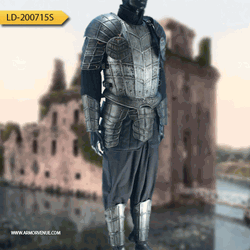 With armor and weapons from the Medieval, Roman, Greek, Japanese, and Civil War periods to name a few, as well as movie replicas from blockbuster films like "300" and "Gladiator", each item is crafted with historical accuracy and authenticity, sure to com
(PRWEB) October 25, 2012
Armor Venue, a retailer featuring top of the line historical armor and weaponry, is inviting to customers to prepare for Halloween by taking advantage of big savings with a "Last Chance Halloween Sale". This sale, which runs through Wednesday October 24, 2012 only, offers customers an instant 10% discount on their orders. This proves to be a great savings, as items are already marked down 20-40%. To get a sale coupon code that can be used during checkout, customers can visit the site where they will find it on the site's homepage.
In searching for the right costume or accessories, Armor Venue promises not to disappoint. With armor and weapons from the Medieval, Roman, Greek, Japanese, and Civil War periods to name a few, as well as movie replicas from blockbuster films like "300" and "Gladiator", each item is crafted with historical accuracy and authenticity, sure to compliment any costume.
For the warriors this Halloween season, the Dark Drake Complete Medieval Armor package is a wonderful way to stand out. This high quality steel set includes the dark drake steel breastplate, dark drake backplate, dark drake pauldrons, dark drake tasset belt, dark drake arm bracers, and dark drake greaves. The Dark Drake armor is made from a new type of dark metal that gives a rugged and textured look. The new metal also protects from rust and scratching, as it is very durable. Created from 18 gauge steel, this is the newest development to armor and is superior to regular blackened or gun blued steel. The Dark Drake armor provides ease of movement and goes well with many clothing options.
For the LARP fans or for the person simply aiming for a cool look, check out the Conquest Undead Complete Armor package. Conquest is the biggest LARP gathering in Europe and this armor is also made with a dark metal finish, offering superior strength and appearance. The set includes such pieces as arm bracers, belt and tabard, and greaves. Great for the tough guys, this armor package is bound to give off an intimidating countenance that will scare the strongest of men.
As Halloween will be here soon, seize the day and take it easy on the pocketbook with Armor Venue's great sale. Don't delay and visit http://www.armorvenue.com/