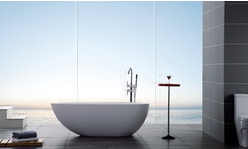 These luxury modern bathtubs come with smooth, tapered edges making the interior of the bathtub look absolutely inviting while invoking a sense of beauty, style and functionality
Allen, TX (PRWEB) October 25, 2012
The Interior Gallery just launched more than 70 new modern bathtub designs on their website. Consumers will be delighted to know that the company is also offering all of these beautiful bathtubs on discount making them affordable for home owners and businesses.
The new luxurious range of modern bathtubs can be seen on their website http://www.TheInteriorGallery.com in the Bathroom Furniture section. Customers have a choice of selecting from the range of Acrylic Bathtubs or Solid Surface Bathtubs at the company's Freestanding Bathtubs' page.
For customers who prefer something more antique or traditional, the company also carries a range of acrylic clawfoot bathtubs.
According to a spokesperson for The Interior Gallery, many of its customers usually prefer the modern and luxurious look when it comes to choosing the bathtub of their choice. This is because many homes now have a modern or contemporary theme and house owners usually want to ensure that their bathrooms have the same modern theme utilizing clean lines and stylish designs.
Most customers are interested in bathtubs that come with a different color, shape or design. In fact, the company is proud to offer luxury modern bathtubs that come in red or black on top of the usual white. The shape and design of their modern bathtubs are also getting bolder and shows the excellent amount of planning that went into creating the product.
These luxury modern bathtubs come with smooth, tapered edges making the interior of the bathtub look absolutely inviting while invoking a sense of beauty, style and functionality. An ideal focal point for the bathroom where one could have a truly relaxing bath.
The Interior Gallery has been designing their own range of bathtubs which manufacturers will specifically custom make for the company. These bathtubs are then brought in directly to the company's main distribution center in Carrollton, Texas and then shipped directly to their customers within the United States or to Canada.
The modern acrylic bathtub range offered by the company is considered luxurious, beautiful and stylish. These are sought after by homes and hotels who have spacious bathrooms along with the modern toilet and bathroom vanities that are offered by the company.
Customers who wish to have a look at the actual physical bathroom products could review them at The Interior Gallery's new $3 million showroom which is located in Allen, Texas. The company has experienced staff on hand to offer advice, feedback and recommendations to walk-in customers.
For more information, please visit http://www.TheInteriorGallery.com to view the entire range of bathroom products, lighting, luxury furniture and home décor.