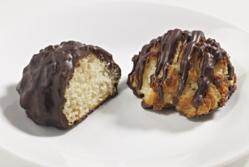 "Better than any candy I've had anywhere, they're great." Sam Champion, WABC TV.
Moosic, PA (PRWEB) October 25, 2012
They are rich, delicious and divine. And the combination of moist coconut macaroons with high quality dark chocolate is heavenly.
For the first time, Jennies Macroons founder Arnold Badner is mass-producing a gourmet line of chocolate-covered and chocolate-drizzle macaroons.
"The reception has been incredible," says Badner. "We have taken our original, all natural gluten-free Jennies Macaroons and have created a truly decadent dessert."
The chocolate-covered are fully coated with a thick layer of dark chocolate. The drizzle has specks of tasty chocolate flakes and a bed of chocolate on the bottom. "It's a little lighter but equally delicious," says Badner, who backs up his product with decades of experience.
It all started more than half a century ago in Brooklyn , New York , where Badner's family produced the famed chocolate -covered macaroons seasonally for the Jewish holiday, Passover, because they contain no wheat or leavened ingredients. "They were a high quality specialty item made under the Messing label and were the highlight of dessert during the Passover seder" he says.
Customers, family and friends begged Badner to make the chocolate-covered treat all year. In a feature in 2003 on WABC-TV News in New York, Sam Champion raved about them on air, calling them "better than any candy I've ever had anywhere, they're great!"
Now that the Jennies company has moved to Moosic, Pennsylvania it is possible to "enrobe" the macaroons with chocolate in its new state of the art facility, which is certified gluten, dairy and nut free. The chocolate-covered and chocolate-drizzle are the latest addition to a long line of gluten and dairy-free products including five flavors of Jennies Macaroons, Omega and sugar-free macaroons and cakes. A new ginger macaroon is another seasonal favorite. They are all made with simple ingredients free of chemicals, nuts and preservatives. They contain the health benefits of sulfite-free coconut along with egg whites, organic cane sugar and tapioca syrup and dark chocolate.
Badner says he is not surprised that "everyone who tries them is clamoring for them." They are now being distributed in health food stores and online at http://www.macaroonking.com and at http://www.facebook.com/jenniesmacaroons.
For Media Inquiries Contact Jenny Badner Falcon (570) 457-2400, jenny(at)macaroonking(dot)com