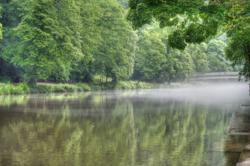 Beautifully illuminated boats floating on the Matlock River Derwent
Peak District, UK, 26th of October 2012 (PRWEB UK) 26 October 2012
The illuminations in Matlock Bath are famous for miles around, and so are its fireworks, which come to a dramatic close this weekend.
"Beautifully illuminated boats floating on the Matlock River Derwent every weekend evening throughout the duration of September and October will provide anybody with lasting memories," says Steve Wake, director for the Peakapeadia website providing its readers with all the latest up-to-date events, information, facts and figures about each Peak District village. "During the illuminations season, the riverbanks and the cliffs around Matlock Bath are adorned with colourful light displays on a variety of themes, making the Venetian Nights a truly remarkable event and one not to be missed."
Drawing to a close this weekend and coinciding with Bonfire Night, the Venetian Nights will certainly go out with a bang as they save the best fireworks display to the very last night. Boat parades of illuminated vessels are built by voluntary groups from a variety of local organisations and each year more and more daring and delightful displays of artistry can be witnessed.
"I was taken as a child, and now I take my own children," says Steve. "It's one of the many events we highlight on our ever expanding website, and it's great our team who all live and work locally, get to sample the events themselves, to gain a true insight into the atmosphere and feeling behind such attractions. We can add not only our own photographs, but the text comes from our hearts and we are very passionate in providing accurate information. What better way than to be able to report on a place we have visited, or an event that we have taken part in?"
In addition to the boat parades and events which are held in Matlock Bath Derwent Gardens during the illuminations, there is usually a lively entertainment programme on the bandstand, and although the streets do get extremely busy, it's always possible to get a good vantage point of the fireworks as they set off from the cliff top high above Matlock Bath.
"Matlock Bath is our very own inland seaside resort with a definite holiday atmosphere," explains James Dobson, fellow director for Peak District Online." We are aiming to cover every single Peak District village, which will take a long time we realise, but it's our mission and we're sticking to it. Matlock Bath has so much to offer the visitor and locals alike, and the new pages recently are a timely addition, coinciding with the end of another wonderful season of illuminations."
James explains that the team that PDO also delve into the history of each event to add further interest for their readers.
"The tradition of the Venetian Nights, which dates back to 1887, originally celebrated Queen Victoria's Diamond Jubilee. The illuminations were simply lit by candlelight and local residents would line the riverbanks with fairy lights, oriental lanterns and lamps back then, whilst watching the twinkling boats pass by on the River Derwent. We've come on a long way since then, with electric lighting of course, but there is still a touching reminder each year, as the boat parades continues to feature one boat, lit only by candlelight in homage to its past."
Visit new pages as they are added to http://www.peakdistrictonline.co.uk and keep up-to-date with all the latest Peak District information, news and events.