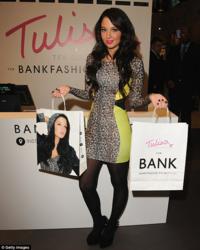 "We are always adding to our product range to help give us the edge over our competitors. Having offices across Europe with procurement teams sourcing new products means we have endless possibilities at our fingertips." Paul Slack
(PRWEB UK) 25 October 2012
X Factor Judge Tulisa launched her Bank clothing range last week and a pop up store in Westfield London was created for the event. The flooring, Terrazzo Vinyl, was supplied by CTN and One Up. This vinyl is hard wearing, anti-slip and has a textured finish and it withstood Tulisa's high heels at the event!
CTN and One Up offer a wide range of vinyls in different textures and colours. Rob Forey CTN and One Up's Business Development Executive stated "More of our clients are becoming interested in the vinyl ranges as they are low cost and high quality. Our wood effect vinyl is R10 anti-slip rated with a lay flat memory. We can supply various wood effect finishes to suit every budget. There are high gloss vinyls, decorative vinyls and smooth dance floor vinyls in our range and all of them are hard-wearing."
Another high profile client of CTN and One Up recently placed an order for red Party Vinyl for use within its flagship store on Oxford Street. Party Vinyl is a new product for CTN and One Up and has a slightly thicker backing than the Terrazzo Vinyl, samples can be obtained by calling or emailing the sales office and a web page will be launched soon.
Paul Slack UK Commercial Director said "We are always adding to our product range to help give us the edge over our competitors. If you are trying to source a product and you can't see it on our website, then call and ask because we will find it for you. Having offices across Europe with procurement teams sourcing new products means we have endless possibilities at our fingertips."
It seems CTN and One Up can offer you the red, blue, green and wood vinyl treatment as well as the red carpet treatment.
CTN Exhibitions Ltd is part of the CTN Group of Companies. Established for over 25 years they are leading suppliers of marquee carpet and exhibition display supplies. The CTN Group acquired One Up Display Service in Nov 2010 to broaden their product portfolio and have experienced year on year sales growth.
For more information on any of CTN and One Up's products and services please call or email on the contact details provided below.
http://www.ctn-uk.com / 01952 680423 / sales(at)ctn-uk(dot)com
http://www.oneup.org / 020 7639 4620 / sales(at)oneup(dot)org