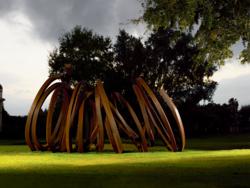 "Meijer Gardens is honored to have been selected to host this special exhibition of works by French master, Bernar Venet," said Joseph Becherer, VP and Chief Curator. "His works are celebrated for the their bold linearity and powerful sense of grace."
Grand Rapids, Mich. (PRWEB) October 23, 2012
Frederik Meijer Gardens & Sculpture Park is pleased to present a special, year-long exhibition showcasing revolutionary sculptor, Bernar Venet. Demonstrating his iconic work in steel, five of Venet's large-scale sculptures will be installed outdoors and will open to the public on October 30th. The length and inclusion of this additional sculpture exhibition is unique to Meijer Gardens and will remain on display until October 2013.
"Meijer Gardens is honored to have been selected to host this special exhibition of works by the contemporary French master, Bernar Venet," said Joseph Becherer, Vice President and Chief Curator of Horticulture and Sculpture. "His works, celebrated for their bold linearity and powerful sense of grace and composition, are celebrated around the globe."
For more than five decades, improvisation has helped shape Venet's art forms. Beginning with photography and mediums such as coal and tar, Venet began using steel after becoming interested in logic and mathematics. When creating his monumental steel sculptures, Venet didn't use preparatory drawings, he used intuition to shape each curve of steel to create visually captivating forms.
Venet's sculptures have been shown all over the world and are included in many of the most prestigious public and private collections in Europe, America and Asia, including Two Indeterminate Lines, which is a part of Meijer Gardens' permanent collection in the Sculpture Park.
"The steel sculptures of Bernar Venet grace public plazas and beautiful gardens around the world – including Meijer Gardens," said David Hooker, President & CEO. "We are very grateful to the Bernar Venet Foundation and the Galerie Scheffel for the opportunity to present five extraordinary pieces for the next year."
Each steel sculpture, ranging in size from eight to 13 feet in height, will be installed on the front lawn, adjacent to the Leslie E. Tassell English Perennial and Bulb Garden.
Coinciding with the exhibition, the public has an opportunity to meet and hear Venet discuss his expansive career and renowned works on October 30th at 7 p.m. at the C. Schoenknecht and W. Paul Sculpture Lecture, as part of The Master Lecture Series. To attend this highly anticipated event, please RSVP to Shelley at 616-975-3144 or skilroy@meijergardens.org. This lecture is included with the cost of admission.
This exhibition is made possible by the Bernar Foundation in France and the Galerie Scheffel in Germany.
# # #
Images available upon request. View thumbnails here: http://bit.ly/TE0Dsr
About Bernar Venet
Born in France in 1941, Bernar Venet had a religious upbringing and aspired to be a missionary. At a young age, he was introduced to painting and drawing by a local artist. When he joined the French Army in 1961, he was still struggling to find a style for his art. He was exploring with tar and coal as mediums, and later with photography. His first sculpture, Pile of Charcoal, was seen as his most famous masterpiece, which many art historians consider revolutionary to the history of sculpture. From there, his interest in logic and mathematics inspired him to create works around these concepts. Subsequently, exhibitions were curated surrounding his sculpture in Belgium, Japan, Austria, Switzerland, Germany, New Zealand as well as America. Venet has received numerous awards for his work, including the name of Chevalier de La Legion d'Honneur, France's highest honor. Currently, he divides his time between his studios in New York and France.
About Frederik Meijer Gardens & Sculpture Park
One of the world's most significant botanic and sculpture experiences, Frederik Meijer Gardens & Sculpture Park serves more than 550,000 visitors annually. Meijer Gardens was recently ranked in the top 100 most-visited art museums worldwide by "Art Newspaper," the leading publication in global art news. The 132-acre grounds feature Michigan's largest tropical conservatory; one of the largest children's gardens in the country; arid and Victorian gardens with bronze sculptures by Degas and Rodin; a carnivorous plant house; outdoor gardens; and a 1900-seat outdoor amphitheater, featuring an eclectic mix of world-renowned musicians every summer. The internationally acclaimed Sculpture Park features a permanent collection including works by Rodin, Oldenburg, Moore, Bourgeois and Plensa, among others. Indoor galleries host changing sculpture exhibitions with recent exhibitions by Picasso, Degas, di Suvero, Borofsky, Calder and Dine.