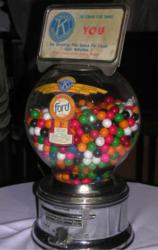 Make your own machines, my boy, and share your profits with God.
Elma, NY (PRWEB) October 24, 2012
Ford Gum is currently the leader of Gum Ball manufacturing and Gum Ball machine distribution. The Big Gumball manufacturing company, Ford Gum, is a bigger name in the Western New York area but for those who haven't heard of the company by name, will know them for their products. The Made In America Store has officially released Ford Gum and their full line of US made candies!
"Made in America" has been sweeping the nation as both a method to boost the economy and to help support local businesses and the Made In America Store is leading the charge. With vendors from both around the nation and local vendors, the Made In America Store supports both the economy and local businesses, especially Ford Gum which originates in Akron, New York, 30 minutes from Elma, New York.
Looking for 100% American manufactured candies? Click here to visit MadeInAmericaStore.com and shop for your US made products!
Ford Gum brings 4 flavors of Big League Chew, 5 flavors of Yowser! Gum, Mike & Ike's Original and Sour Gum and an assortment of Gumballs. Big League Chew includes Bubblegum, Grape, Watermelon and Sour Apple flavored. Yowser! Includes Bubblegum, Grape, Sour, Assorted and Cotton Candy. Lastly, Ford Gum brings Hot Tamales Gum, which is sugar free.
Click here to shop for Western New York's favorite, 100% American made gum, Ford Gum at the Made In America Store!
Ford Gum originated in 1913 when 20 year old Ford Mason was a roofing salesman who spent the warmer seasons repairing roofs and traveling by horse and buggy. In winter, he stayed at home until Ford met a man who had engaged him in the business of operating chewing gum vending machines.
The gum vending machines had just been introduced only a few years prior and only a handful of entrepreneurs knew of the industry. Ford was so impressed with the industry that he borrowed money to lease 102 gum vending machines, spreading them across Western New York.
Ford realized that success meant giving customers their money's worth. Ford then quit the roofing business and devoted all his energy to selling gum. Ford's father, a Baptist minister, was pleased with his son's decision. And soon after Ford began his crusade for better business ethics, Reverend Mason said: "Make your own machines, my boy, and share your profits with God."
Ford Mason took his father's advice is now a matter of history. Ford began with limited resources, but with unlimited enthusiasm, he created a business empire stretching from coast to coast. Over 500,000 vending machines perched on store counters and pipe pedestals in countless North American communities testify to the magnitude of his operations. To service this army of machines, Ford set up a nationwide system of operators.
From a network of distributors to a broad range of new popular products and state of the art equipment, the Ford Gum & Machine Company continues to deliver high-quality, innovative candy, gum and novelty products.
The Made In America Store is the only brick and mortar store that sells 100% made in the United States products from over 350 vendors. Consumers can visit http://www.MadeInAmericaStore.com or call 716-652-4872 to get more information or shop our catalog of over 3,500 items. Both Active Duty Military Personnel and U.S. Military Veterans receive a 10% discount every day. Followers of the "Made In America" movement can keep updated with the Made In America Store through Facebook, Twitter, Google+, Pinterest, FourSquare and even their own blog on Wordpress!