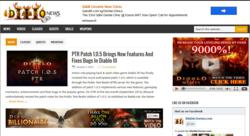 iDiablo3News.com is a new website that offers the most complete and the latest about the incredibly popular game.
Phoenix, AZ (PRWEB) October 27, 2012
The unprecedented rise of the video gaming industry is greatly attributed to the highly interesting games that fans from all over the globe can't help but swoon over. Diablo, a horror and dark fantasy role-playing game developed and released by Blizzard Entertainment, is one such phenomenal game.
Known for its wide-ranging impact in the video game industry, Diablo has evolved into a series that journeyed players as lone heroes battling against the Lord of Terror in the all-too-familiar Kingdom of Khanduras.
Players found themselves captivated by the 16 dungeon levels that brought them to Hell and win a fight against Diablo. Released in 1996, Diablo was followed by Diablo 2 in 2000. The latest installment, Diablo 3 was released in May 2012. The latest online, PC-based Diablo 3 sold over 3.5 million copies just within 24 hours of its launch.
iDiablo3News.com is a new website that offers the most complete and the latest about the incredibly popular game. The website features Diablo 3 news and information that every fan should know about.
"Blizzard has announced that it would release an update 1.0.5 for action role-playing video game Diablo 3," reports iDiabloNews. "Players playing at a high level will see diminishing returns applied on consecutive stuns to decrease their effectiveness. However, near-infinite CC strategies will still be working." This release Patch 1.0.5 For Diablo 3 will focus on crowd control skills.
Featuring everything Diablo 3 from all across the globe, iDiablo3News.com is filled with details of patches and classes that gamers have to be updated with. Information on quests, skills and weapons are also featured on the website.
In light of the newest Diablo 3 release, iDiablo3News.com is featuring an in-depth discussion of the 1.0.4 Patch that paves the way for a large number of improvements for the classes, making the game more playable for a lot of players.
While featuring detailed Diablo 3 news, iDiablo3News.com is not licensed by nor is a subsidiary of Blizzard Entertainment. It is backed by Diablo 3 fans reporting on their favorite game, and the website's content is not supplied or reviewed by the company. All articles, images, logos and trademarks in the website are property of their respective owners.
To know more about Diablo 3 news and other must-know information for an enjoyable game, please visit http://www.idiablo3news.com for details.
ABOUT
iDiablo3News.com is dedicated to featuring updated news about the Diablo 3, the third installment in the massively popular video game franchise.