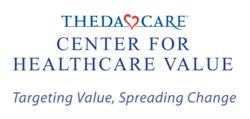 Appleton, WI (PRWEB) October 24, 2012
The Association for Manufacturing Excellence (AME) has selected John Toussaint, MD, CEO of the ThedaCare Center for Healthcare Value, for induction into its Hall of Fame, which recognizes individuals for their extraordinary contributions to the achievement of the AME's mission.
Dr. Toussaint was honored during the annual AME conference in Chicago last week. The AME is the largest professional organization focused on lean manufacturing, and the Hall of Fame is its highest distinction.
"The acknowledgement of peers in the lean community means a great deal as the Center continues its work to spread lean principles in healthcare," said Dr. Toussaint.
In addition to leading the Center, he is also CEO emeritus of ThedaCare, and the founding Chair of the Wisconsin Collaborative for Healthcare Quality and the Wisconsin Health Information Organization. He has also served as a non-executive leader of the Partnership for Healthcare Payment Reform in Wisconsin.
During his tenure at ThedaCare, Dr. Toussaint introduced the ThedaCare Improvement System (TIS), which helped save millions of dollars by reducing medical errors, improving outcomes and delivering better quality care at a higher value. Dr. Toussaint has been featured in numerous publications across the country including the Wall Street Journal and the New York Times. He is also asked to speak around the world on lean and the topics of quality and efficiency in health care.
The ThedaCare Center for Healthcare Value is transforming the healthcare industry to deliver higher value through experiments, collaboration and education that integrate three interdependent components: delivery, transparency and payment. In these areas, the Center spreads learning and accelerates improvement.