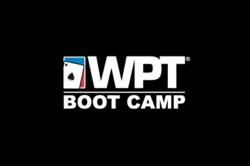 We don't see this new policy as a gamble at all...We just want people to share our confidence that our camps will improve their game.
(PRWEB) October 24, 2012
The instructors at WPT Boot Camp don't believe their company is risking even a little bit by introducing its new money-back guarantee on its industry-leading poker training camps.
That's why the official policy has just become to offer full refunds for anyone attending a WPT Boot Camp, if they're not absolutely certain that the skills they've learned at the camp will improve their poker game.
This guarantee is in addition to WPT Boot Camp's existing Risk-Free Registration policy, which allows registrants of any Boot Camp to cancel a registration up to 24 hours before the event, and to transfer their registration to anyone of legal gambling age without a fee.
"We don't see this new policy as a gamble at all," said instructor and WPT Boot Camp Director of Training Nick "Nicky Numbers" Brancato.
"We've seen our poker training work so effectively, for so many people, that we know our program works. We just want people to share our confidence that our camps will improve their game."
The camps, which are hosted at casinos and resorts around the world, bring together proven poker training methodologies and world-class poker instructors such as Todd Brunson, Eric "Rizen" Lynch, and Kathy Liebert to teach cutting-edge poker strategy to recreational, serious, and professional players at all levels of play.
Since 2004, WPT Boot Camp has trained more than 7,000 students in its cash game and tournament poker camps, and the success of its alumni speaks for itself. Boot Camp attendees include:

Sean Jazayeri, who won a World Poker Tour title and $1.4 million;
Joe Sidoryk, who has won more than $1 million playing online poker; and
Lee Childs, who made the World Series of Poker Main Event Final Table and took home $705,229.
Many alumni have also made WPT and WSOP Final Tables, and countless graduates have gone on to professional poker careers.
Upcoming WPT Boot Camps include:
10/27-10/28, Las Vegas, Tournament Camp
11/10-11/12, Las Vegas, Cash Camp
12/8-12/9, Dallas, Tournament Camp
About WPT Boot Camp:
Founded in 2004, WPT Boot Camp is the world's first organization to offer formal poker training. Its extensive curriculum includes courses in No-Limit Hold'em cash game and tournaments, 2-day advanced clinics for cash and tournament play, and hands-on poker labs. These camps are taught by elite professional poker players who form the world's most experienced team of poker educators. WPT Boot Camps are held in dozens of casinos and resorts around the world.
In 2012, WPT Boot Camp launched an online platform to offer its proven training methods to a wider audience who can benefit from its top-of-the-line poker education.