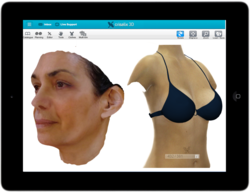 Chattanooga, TN (PRWEB) October 25, 2012
Located in Chattanooga, TN, you will find a rare combination of surgical artistry and Christian compassion from the board certified cosmetic surgeons at Advanced Surgical Concepts. Board certified cosmetic surgeon Dr. James E. White, MD, FACS and Dr. Vincent Gardner, MD, FACS offer surgical expertise from the latest cosmetic surgery procedures in a state of the art, AAAHC accredited facility.
Crisalix: 3D simulations worth a thousand words
Any decision to modify one's physical appearance cannot be taken lightly and it is only normal for a patient to want to see the final result before the procedure. To date patients were not provided with a response to this all-important concern. However, by combining advanced medical research and state-of-the-art information technology it is now possible to offer this to patients in an effort to optimize the level of care and treatment they deserve.
Crisalix is the world's first web-based 3D simulator using three standard 2D photos for aesthetic procedures, which recreates in 3D the patient's face or body to further enable accurate pre-visualizations of the final result. For the first time in the history of aesthetics, a patient can see her new face or body in 3D, as opposed to imagining the result using traditional methods, such as photos of other patients that do not represent the patient's own anatomy.
This breakthrough technology, now offered by Dr. James White and Dr. Vincent Gardner, increases patient education, understanding and interaction, to further optimize post-procedure satisfaction. [Crisalix]
Crisalix's technology recommended by IPRAS
IPRAS, the leading international federation for Plastic Surgery, recommends Crisalix (http://www.crisalix.com) for the significant progress its 3D simulation technology brings to the entire medical community, along with its contribution to patient education and a more informed decision-making process. Patients using Crisalix have demonstrated much higher levels of satisfaction, corresponding directly to IPRAS' objectives in improving the care and treatment of every patient seeking plastic surgery.
What do patients say about Crisalix?
The results of surveys conducted in Switzerland between November 2007 and January 2012 showed that 90% of women would prefer a plastic surgeon using a 3D simulator over a surgeon using standard methods for showing post-surgical results (bra & sizers). 100% of patients were either satisfied or very satisfied with the Crisalix 3D simulations they were provided with. 87.5% of the patients felt that Crisalix allowed them to express their desires and expectations to the surgeon.[Crisalix]
What do the world's top plastic surgeons say about Crisalix© simulations?
Prof. Jan Poell, MD (Switzerland), Former President, ISAPS (http://www.isaps.org):
"This is a fantastic revolution for the patient as well as for the surgeon. For the patient, there is nothing like seeing simulations of her own body. This technology should help all surgeons, from novice to advanced, in establishing realistic patient expectations and improving results. "
Based in the fastest growing life science cluster in the world, the Swiss Federal Institute of Technology, located in Lausanne, Switzerland, Crisalix brings together the latest advancements in surgical technology, 3D and information technology. Crisalix's unique 3D simulation technology is supported by the world's most recognized plastic surgeons and a Medical Advisory Board that includes Prof. Yves-Gérard Illouz (inventor of liposuction) and Prof. Thomas Biggs (Editor-in-Chief, IPRAS Journal)