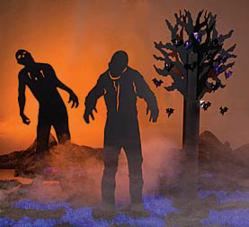 South Whitley, Indiana (PRWEB) October 23, 2012
Every Halloween, those living on Elm Street in cities across the U.S. have an advantage that adds to the creepiness of the holiday. Their address might be right out of the 1984 movie Nightmare on Elm Street. In that classic Halloween horror film, a spectral child murderer stalks the children of the members of the lynch mob that killed him.
What's the advantage of living on a street with an ominous name? "Everyone that lives on Elm Street should get a Halloween party banner for just $1," says Keith Bansemer, Director of Internet Marketing at Shindigz, the world's largest online party store. "Why not celebrate the macabre holiday by letting every Elm Street household create their own personalized party banner. Whether they use the banner for trick-or-treat or their next birthday party, we'll leave that up to those residing on such a notorious street."
Shindigz sells unique party supplies with custom 18x54-inch vinyl banners being one of their most popular products. "Party hosts become the artists and design their banners by adding their own words, photos, and colors online," notes Bansemer. "The banners normally sell for $14.99 each, but are $1 for anyone living on Elm Street."
Almost every large American city has an Elm Street. Those living on Elm Street can redeem their banner by visiting http://www.shindigz.com/ElmStreet and use the promotional code ELMSTREET at checkout.* This opportunity is available to the first 1,000 banner orders.
About Shindigz
Since 1926, Shindigz has "made life more fun" for 22 million events through the manufacture and sale of personalized party supplies. It ships products from its facilities in South Whitley, Indiana across the United States, and around the world to 59 countries. With more than 34,000 products, the company provides customers with a complete party solution. For more information about Shindigz, go to http://www.shindigz.com/ElmStreet.

To get your One Dollar custom banner, enter ELMSTREET in the promotional code box at checkout online at http://www.shindigz.com. A credit for $13.99 will appear with your order confirmation before submission online. Offer applies to the 18x54-inch banner product size (items: B1118, K1118, K1154 and B1154). Limited to the first 1,000 orders. Offer can be redeemed once per customer, per organization, or household. The One Dollar Banner offer cannot be combined with any other offer or previous orders and does not apply to Attach'N'Go banners. Shipping charges will apply. Expires 10/30/12, 11:59 PM EST.