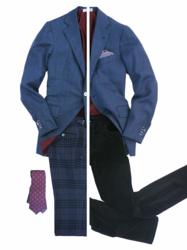 New York, NY (PRWEB) October 23, 2012
For fall-winter 2012-13, the Italian brand Bellucci Napoli is introducing a bespoke collection that combines impeccable style with great comfort. The focus and strength of the collection relies on the impeccable wear that only a Neapolitan jacket of the best quality can offer. Bellucci is presenting a series of combinations that pair a jacket with tapered pants or a jean-cut trouser.
Bellucci Napoli aims to present clients with a new way of thinking about a suit jacket, by proposing a jacket that is comfortable, light on the body and supple, that can be worn all day and for any occasion.
Nedo Bellucci designs what he calls 'style combinations' by pairing a tailored jacket with a two trouser option to provide multiple outfits that easily seg-way from a stylish professional look to an outdoor lunch event, to a cocktail function and a formal dinner.
Most traditional suits available on the market have heavily padded jackets that are boxy and use stiff canvases. Even if they present details of the best sartorial quality, those jackets cannot be worn with a pair of stylish jean-cut prized wool trousers with contrast color stitching the way 'style combinations' would.
For the month of October, to promote the launch of 'style combinations' the Bellucci Family collection is offering an introductory package: for every suit ordered the customer will receive a bespoke made-to-measure jean-cut trouser.
In the pictures please find a selection of this season's 'style combinations'. Men will fall in love with the soft-elegance of Bellucci Napoli's creations.
Bellucci Napoli has been designing and creating hand made bespoke clothing since 2008. The company's approach to suiting, which is strictly Neapolitan in style, is denoted by the deconstructed shoulder and easy wear of the jackets which are fitted and have the added benefit of being flattering and comfortable. The offering includes a selection of trousers realized in classic and precious fabrics also available in more casual inspired trends.
Nedo Bellucci has built his reputation as a talented designer on creating impeccable and flattering suits. The defining element of a Bellucci Napoli suit is the emphasis of the cut which consistently delivers an athletic and elegant garment designed to flatter and showcase every man's physique.
Bellucci Napoli is based in New York in the three floor Palazzo Bellucci at 5 East 57th street. For information on how to order a Bellucci Napoli Bespoke creation, please contact +1-212.207.8228 or info(at)belluccinapoli(dot)com