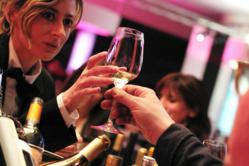 (PRWEB) October 23, 2012
Hong Kong 23rd October 2012 – The leading wine Importers – ASC, Summergate and Torres – shared their views with Vinitaly International on the current market trends in Hong Kong and China as the demand for imported wine in China grows, Hong Kong slows and a surge in new importing companies intensifies competition.
According to Wine Business International Chinese wine consumption grew by 140% in the period from 2006 to 2010, with imported wines accounting for 15% of the volume, representing an incredible 395% increase. Further growth of 21.5% in 2011 took the total annual consumption of all wines to 1.5bn bottles a year and projections of another 1bn bottles will be added by 2015. This makes China the 8th largest importer of wines by volume and 5th in the world for the value sales of its imported wines. Hong Kong however, a much mature market and a gateway to Mainland China shows signs of slowing as the wine import data of the first quarter of 2012 suggests less wine was imported than at the time last year.
Italian Brand Manager Chiara Molena of Summergate agrees with these observations, yet the slowing import numbers for Hong Kong do not exactly correspond to a decrease in consumption from the end consumers. The market is mature and a stagnant trend does not mean a saturation of the market, but can rather be attributed to the global economic slowdown as restaurants and hotels were less frequented. The economic crisis also affected the banking and investment industry, which are clear drivers of the Hong Kong consumption. Also Thibaut Mathieu, Vice General Manager of ASC Wines doesn't see a slow down for Italian wine imports as they are en par with the 2011 data, both in terms of volume and value.
This stands in contrast to current realities in the Chinese market, which experiences healthy growth and a steady increase of per capita consumption (currently at 1,4L). This context leads to intensified competition between importers of foreign wines but also a growing concern of domestic wine producers about wine imports. The China Alcoholic Drinks Association (CADA) is thus to file an anti-dumping and anti-subsidy probe on EU's grape wine exporting to China, and alleged dumping of cheap wine. Summergate believes that European countries are becoming more responsible towards quality exports as the Chinese consumers are increasingly looking for value and prestigious brands. Chile and Australia for instance as the 2nd and 3rd most imported wines in China, enjoy their position not only due to their quality value ratio, but also due to the big marketing campaigns and tax concessions they received from the government. Something that Italian wines unfortunately do not have currently. Claudio Fragiacomo, Italian brand manager of Torres believes that a serious price control of imported products would be helpful for the Chinese market as unfair competition derives from the taxation and forces many importers to increase prices.
All three importers agree that the Chinese market requires a clear decision on a strategy including constant representation and distribution, branding and good knowledge on local market rules, regulation and segmentation. Since education is the key for China, dedication is required to build brand awareness. A producer should choose its partners based on basic rules (payment terms, promotional support, contract of distribution, brand plan and product positioning, exclusivity contracts etc.).
According to Stevie Kim, General Coordinator of Vinitaly International, the Hong Kong and Chinese market is incredibly different from other countries. "Producers have to understand that also second and third-tier cities are becoming very important and not only Shanghai and Beijing. A common mistake is not to work with local people or seek to replicate a business model that worked for instance in the USA".
Vinitaly International is aiming at promoting Italian wine in different market segments in Hong Kong this year culminating at the Hong Kong International Wine and Spirits Fair and the Vinitaly Pavilion (Hall 3G) on November 8-10th. Still, wine lovers will get a fist taste at the Hong Kong Wine and Dine Festival on November 3rd – 4th at any of Vinitaly's "Red, White and Sparkling" Wine Bars in the Wine Culture Celebration Pavilion. Here, more than 150000 people are expected to West Kowloon Waterfront Promenade. The Vinitaly Wine Affair continues on November 7th with wine aficionados being able to enjoy the magic of Hong Kong by night in two vintage trams that ride along the coast featuring exclusively selected wines for a very special tasting. For more information http://www.vinitalytour.com
About Veronafiere:
Veronafiere is the leading organizer of trade shows in Italy including Vinitaly, the largest wine event in the world. In 2012, over 4200 exhibitors showcased their wines to 140,000+ visitors (35% from outside of Italy representing over 120 countries). Veronafiere created the Vinitaly Tour http://www.vinitalytour.com in 1998 to develop an international platform for the promotion of companies in the Italian wine and food sectors. The latest development saw Vinitaly aiming at increasing Italian wine sales in China as it reinforced its partnership with the Hong Kong Trade Development Council (HKTDC), which organizes Asia's leading wine fair Hong Kong International Wine & Spirits Fair.
###