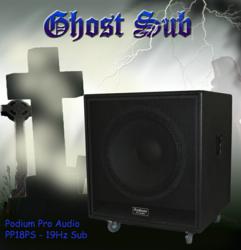 "Ghost Subs have intensified our entire haunt! Their Awesome! We have the 5 subs placed strategically throughout 4 attractions to give the customers the ultimate experience."
Canoga Park, CA (PRWEB) October 24, 2012
This year it is estimated that 20% of all Americans will visit some sort of haunted attraction grossing 400-500 million dollars in revenue. Over 3,000 haunted attractions and trails will attempt to draw in that 20% from their local population, but a few exceptional haunts perform at the top of their class getting recognized on top 10 lists by such popular media as the Travel Channel, the Today Show, and haunt authority HauntWorld magazine, drawing in visitors from around the country. The evolution of haunting has accelerated to include detailed Hollywood like sets, experienced professional make-up artists, multidimensional animatronics leaping at us from dark crevices and great actors working within a demented story line all to achieve that moment for horror goers to truly feel scared.
Sasha Letourneau of OnlyFactoryDirect.com suggests there is an additional common thread in top rated haunts, an unseen dimension…the audio. "Imagine a horror film without a great musical score, what do you think of first when I mention Jason from Friday the 13th, or Psycho," she asks, "the correct sound effects will take that grave yard, or torture chamber and add a dimension of reality."
In 2009 OnlyFactoryDirect.com's owner Mike Lewis partnered with speaker manufacturer Podium Pro Audio to develop a line of speakers specifically designed for the haunt industry. Talking with haunt owners, they worked on producing speakers like the PPM8 and PPM10 self-powered battery operated speakers with a built in MP3 player, that can be placed in any scene without having to run cables and power cords to it. Using the PPM8 and PPM10 also reduce the expense of a playback source, because the built in MP3 has a looping option and can be connected to a trigger.
In the fall of 2010 OFD and Podium Pro Audio developed the Ghost Sub, an 18" Powered Subwoofer that can reproduce a frequency so low, that it is inaudible to the human ear, but has been found to contribute to the feeling or emotion of dread, terror, and fear. Infrasound or a 19Hz frequency was used heavily in the popular horror film Paranormal Activity, and the phenomena is gaining more attention, as haunters debate if using such infrasound is crossing the line.
Netherworld in Atlanta, GA is one of the premiere haunts at the top of every "Best Haunts" list from HauntWorld Magazine to the Travel Channel; Netherworld has been recognized for its over-the-top themes, unique monsters and innovative scares. The owners at Netherworld spare no expense to create an unparalleled experience, including several Ghost Subs, a half dozen PPM8's, PP802A powered speakers, and PP1210 passive speakers. Owner Ben Armstrong comments, "Ghost subs create such deep resonance and vibrations it takes a scene to a completely different level." Netherworld uses over two dozen Podium speakers through-out their haunt creating terrifying effects partnered with some of the most recognizable talents in the industry including make-up artist, Roy Wooley from SyFys hit show, Face Off.
Also topping the list is New Englands legendary Spookyworld boasting five Ghost Subs and some twenty pairs of OnlyFactoryDirect.com's outdoor speakers throughout their haunt. Nightmare New England joined forces with Spookyworld to forge one of the largest and most terrifying Halloween scream parks in the country. Reader Digest included this spooky haven on their top 11 list, describing it as a "mega-park" with over 7 attractions including a monster midway, where monster interact with fear goers. Lead production crewmember Nic Wessley comments, "Ghost Subs have intensified our entire haunt! Their Awesome! We have the 5 subs placed strategically throughout 4 attractions to give the customers the ultimate experience."
To view more haunt related audio visit OnlyFactoryDirect.com, an on-line pro audio and home audio store based out of Canoga Park, California. OnlyFactoryDirect.com offers a 30-day "no hassle" returns and free shipping.