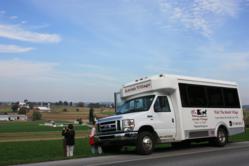 ...giving you a behind-the-scenes look at Amish life...
Lancaster, PA (PRWEB) October 25, 2012
While driving through Lancaster County, many questions arise because of the unique scenery and Amish culture. Why do the Amish drive open or closed buggies? Why can Amish youth use rollerblades and scooters, but not bicycles? The new Amish Village Backroads Bus Tour will answer all these questions as they come up during the tour around the beautiful Lancaster County countryside.
The 90-minute tour, which operates daily, will take passengers off the beaten path, past working farms and along country roads where buggies roll along and farmers work their fields. The driver will narrate throughout the tour, giving a behind-the-scenes look at Amish life – history, customs, beliefs and traditions. All passengers are encouraged to ask questions along the way. This is a great way to learn how this special community thrives in a 21st century world.
Each bus tour includes at least at one stop at unique locations such as an Amish home, quilt shop, bake shop or seasonal market stands. The tour will pass a handful of Amish school-houses and during the week passengers will see Amish kids playing in the schoolyards. The tour includes facts about Amish agriculture and many different Amish businesses. On Sundays, there will be buggies galore as families gather for church services or travel the back roads on a leisurely outing.
Amish Village Backroads Bus Tour is part of The Amish Village, an authentic Amish homestead along Route 896, just down the road from Sight & Sound Theatres. The tour options include the 90-minute Bus Tour, as well as a Farmhouse Tour and self-guided exploration of the Village grounds. Tours are offered separately or as a combination package. The Backroads Bus Tour is currently available at 11:00 a.m., 1:00 p.m. and 3:00 p.m. daily.
About The Amish Village:
Get the behind the scenes look at Amish culture at The Amish Village; now through November 5, visit Monday – Saturday, 9 a.m. – 5 p.m. and Sunday 10 a.m. – 5 p.m; November 5 – March 2013 visit daily 10 a.m. – 4 p.m. The Amish Village is located at 199 Hartman Bridge Road, Ronks, PA. Admission for the house tour and access to the entire 12-acre property is $8.50 for adults and $5.25 for kids ages 5-12. Children 4 and under are free. Bus Tour only is $20 for adults, $13 for children ages 12 and under. Premium package tour, including the house tour and 90 minute countryside bus tour is $26 for adults, $16 for children ages 5-12 and $13 for children ages 4 and under. For more information visit http://www.theamishvillage.net, http://www.Facebook.com/TheAmishVillage or call 717-687-8511.
###