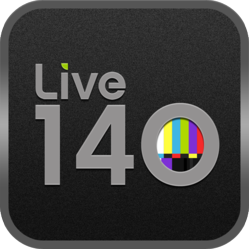 The 'second screen' TV watching experience is growing with a record number of tweets being sent during live events and TV programs
Kansas City, MO (PRWEB) October 23, 2012
OneLouder Apps today announced the release of Live 140, the first mobile Twitter Guide for TV. The app is immediately available to download free on the App Store for iPhone and iPod Touch and Google Play for Android smartphones.
Live 140 is the first and only TV companion app dedicated to bringing mobile users fast, easy access to live event Twitter commentary without having to sort through all the clutter.
"The 'second screen' TV watching experience is growing with a record number of tweets being sent during live events and TV programs," said Evan Conway, OneLouder president. "The problem is that it still hard to know who to follow on Twitter. Live 140 simplifies this for mobile users providing instant access to pre-curated Twitter streams on the top TV shows and other live events."
Live 140 features hundreds of the most popular daytime, primetime and late night programs TV shows, including shows like The Today Show, The Voice, Dancing with the Stars, WWE, Conan, and The Tonight Show. It also features other live television events like election coverage and sporting events for nearly every major sport around the world.
To download now or for more information, visit the Live 140 website.
About OneLouder:
OneLouder is a leading mobile app developer focused on simplifying and organizing social content on mobile and tablet devices. The company has had more than 20 million downloads across its suite of apps including, TweetCaster, FriendCaster, SportCaster, ChannelCaster, Slices, Powow, BaconReader, and 1Weather. For more information visit http://www.onelouder.com; follow us on Twitter and become a fan on Facebook.