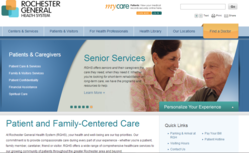 "With MedTouch modules built for Sitecore, the implementation of DMS and new personalization features, we are able to collect increasingly relevant information about the performance of our site" - Wendy Maxwell, RGHS Webmaster
(PRWEB) October 24, 2012
Rochester General Health System (RGHS), and MedTouch, the leading provider of web strategy and online solutions for healthcare, together announce the launch of a new strategic website, http://www.rochestergeneral.org, powered by Sitecore as the CMS and utilizing v2.0 of Sitecore's Digital Marketing System (DMS).
Since 2008, MedTouch has assisted RGHS in its efforts to present the region with an innovative website that reflects the integrated nature of its healthcare delivery system. In this vein, the new RGHS website is the first hospital in the country to leverage Sitecore's Digital Marketing System (DMS) to dynamically customize the visitor's experience based on Personas.
Sitecore's DMS gives http://www.rochestergeneral.org a level of agility that allows the visitor to have a personalized experience on the website. The user may choose from four Persona options at login: "Patient or Caretaker", "Senior or Caretaker", "Health Professional", or "Job Seeker". The website tailors subsequent content offerings based on the user's selection; the DMS also provides an analytic foundation, giving RGHS increased insight into user behavior and engagement.
"This is a big step forward for marketing intelligence," said Paul Griffiths, MedTouch Founding Partner and CEO. "Rochester General Health System is at the forefront of digital strategy, using its website to learn about its visitors in a contextually-sensitive way. They have access to the same kind of technology that the Amazons and Walmarts of the world use, which allows them to make available the most relevant content and navigation, based on audience segmentation."
The new launch integrated multiple RGHS hospitals' websites into one main health system website, in which the entire system is represented as an umbrella, with the ability to easily navigate through all available care options.
MedTouch also deployed several of its healthcare-specific modules for Sitecore, including Services, Bill Pay, News, Media Library, Content Us, Mobile Site, Residency Document Manager, Staywell Library Integration, and Advanced Site Search with priority tagging.
Finally, this project provided the opportunity to update the content and improve the site's overall organic search position, with Personas tracking into Google analytics. Since its August 10 launch, http://www.rochestergeneral.org has experienced a 15% increase in overall visits and a 10% increase in first-time visitors. 66% of primary keywords have improved their position in Google searches and 49% have improved visibility in Bing.
"MedTouch is helping evolve our understanding of web analytics," says Wendy Maxwell, RGHS Webmaster. "With MedTouch modules built for Sitecore, the implementation of DMS and new personalization features, we are able to collect increasingly relevant information about the performance of our site. We can help our visitors reach the content they care about more effectively than ever."
About Rochester General Health System
Serving the community of Greater Rochester NY and beyond, Rochester General Health System (RGHS) has been providing for the healthcare needs of residents of western and central New York State for more than 150 years. Equally important to the world-class clinical expertise we provide is the unparalleled level of personalized attention and compassionate care we strive to deliver to every patient we serve. It is this commitment to patient care that drives our progress and has enabled us to become the fastest growing health system in the region. Rochester General Health System is comprised of eight clinically integrated affiliates delivering comprehensive healthcare services with superior quality, safety and patient satisfaction. RGHS is the only area health system to be rated by SDI as one of the Top 100 Integrated Health Networks in the United States. With a recognized reputation for providing medical excellence balanced with compassion, Rochester General Health System's quality-driven principles have been embraced as the new model for healthcare providers around the country.
About MedTouch
MedTouch focuses exclusively on helping healthcare organizations succeed online. Since 2004 we have combined digital strategy with creative and technical excellence to ensure our clients -- hospitals, physician groups and health plans nationwide – achieve results that matter. From healthcare specific content management solutions to user experience design; from results-driven search marketing and content strategy services to public-facing websites and employee-oriented Intranets, MedTouch makes healthcare interactive.