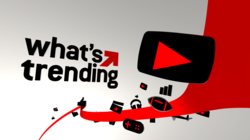 Los Angeles, CA (PRWEB) October 23, 2012
This week, Lance Bass (Former Member of N'Sync and current Host of Sirius XM's 'Dirty Pop with Lance Bass') takes over What's Trending, the live interactive talk show for YouTube. As Guest Host, Bass will spotlight the hottest videos and trends on YouTube! Joining him as a Co-Host on today's and tomorrow's shows is recording artist and American Music Awards On-Demand Host, Kimberly Cole. Also, Disney's 'Good Luck Charlie' star, Bridgit Mendler will perform her new single 'Ready or Not' from debut album 'Hello My Name Is.." followed by a live fan chat.
Other high profile guests this week on What's Trending include Jon Chu (Co-Founder YouTube's DS2DIO / Justin Bieber: Never Say Never, Step Up 2, GI Joe: Retaliation) and Oscar-Winning screenwriter and LGBT activist Dustin Lance Black! Tune in daily at 12 PM PT / 3 PM ET live on YouTube: http://bit.ly/RYPvKA
Last week, pop star Rebecca Black debuted her new single 'In Your Words' live on the show! Check it out here: http://bit.ly/QCP0Ua
For more information on scheduling and guest line ups, head to What's Trending's YouTube Channel: http://www.youtube.com/whatstrending.
# # #
About What's Trending
Hosted by Shira Lazar, What's Trending is an Emmy-nominated, live, interactive talk show that airs daily on YouTube at http://www.youtube.com/whatstrending. The show spotlights the videos and content creators that make for the most watched content on the platform. The show features guests and performances from celebrities and media influencers. It is also a 24/7 news hub, covering trending news from around the web through social media. What's Trending is produced by Lazar and Damon Berger. Stay connected and join the conversation by following the show on twitter @whatstrending.
For Media Inquires:
What's Trending - JJPR
Jocelyn Johnson
jjohnson(at)jjdigitalpr(dot)com