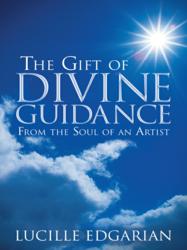 "When we discover our spiritual side, there is no limit as to what we are capable of. I owe my successes and sanity to the divine help I received from my spiritual guardian."
Spicewood, Texas (PRWEB) October 30, 2012
Author, entrepreneur and professional artist, Lucille Edgarian shares her story of spiritual growth in her new book, The Gift of Divine Guidance: From the Soul of an Artist.
The Gift of Divine Guidance: From the Soul of an Artist is an inspiring story about the extraordinary life of a poor depression-era child. Prompted by a near-death experience, Edgarian describes her spiritual growth over her lifetime. After being contacted by a spiritual guardian as a young child she was enabled to conquer adversity through divine assistance.
"As a young child, through an unusual form of meditation, I was contacted by a spiritual guardian who helped me during difficult periods. Later in life I relied on his divine inspirations and guidance. During a near death experience he appeared to me and I was told I had a mission to accomplish," says Edgarian. "I had to live through many gut-wrenching experiences, and learn to overcome untold adversity before I finally understood what my mission was: the writing of this book."
The spiritual insights throughout The Gift of Divine Guidance: From the Soul of an Artist, offers examples of how we can trust in our own intuition—that inner voice that guides us in making right decisions
The Gift of Divine Guidance: From the Soul of an Artist
By: Lucille Edgarian
Paperback: $16.99
ISBN: 978-1-45254-817-3
Purchase the book: http://www.amazon.com and http://www.barnesandnoble.com.
About the author:
Lucille Edgarian is a professional artist, author and entrepreneur. She pursued art studies at the American Society of Fine Arts and the Corcoran Gallery of Art in Washington, D.C. and she was Professor Pio Rossi's first female apprentice in Pordenone, Italy. Edgarian is a past president of the San Antonio Chapter of The National Society of Arts and Letters and has also served as the National Art Chairman for two years. Edgarian is also a signature member of the Texas Watercolor Society.
In 1986, Edgarian established her own company, Lucille Enterprises that developed and sold Texas gift items using her artwork. Due to her entrepreneurial ventures, Edgarian was listed in the Notable Women of Texas 1984-1985 and Who's Who of Women Executives 1989-1990, and she is a member of the National Association of Women Executives. Outside of her art and entrepreneurial ventures, Edgarian has had great success with her poetry. Her poems have been published in several publications of the International Library of Poetry as well as on Poetry.com.
# # #