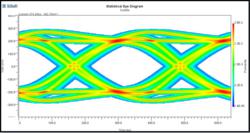 Maynard, MA (PRWEB) October 23, 2012
Signal Integrity Software, Inc. (SiSoft™), today announced the availability of three Quantum Channel Designer® design implementation kits for the Intel platform for communications infrastructure with the Intel® Communications Chipset 89xx Series. As a member of the Intel Intelligent Systems Alliance, SiSoft has worked closely with Intel to develop these design kits which offer 'ready-to-run' setups allowing designers to quickly perform pre-route design space exploration and easily verify their PCB designs prior to fab-out, a huge advantage over testing physical prototypes. Quantum Channel Designer has the unique capability of enabling designers to perform post-layout on all of their design's serial links, allowing designers to quickly analyze every link for voltage and timing margins.
Three kits are available now:

Intel® Xeon® processor E5-2600 family to Intel® Communications Chipset 89xx series PCIe-II
Intel® Xeon® processor E5-2400 family to Intel® Communications Chipset 89xx series PCIe-II
The Intel platform smaller footprint communications systems (including Intel® Xeon® processors E3-1125C and E3-1105C, Intel® Core™ i3-2115C processor, Intel® Pentium® processor B915C, and Intel® Celeron processor 725C (together formerly known as "Gladden") to Intel® Communications Chipset 89xx series PCIe-II
These kits include encrypted HSPICE® simulation models that require an HSPICE license to run. The kits are available free of charge to Intel customers. For information on how to obtain the above-referenced kits, please contact your Intel representative or visit Intel's Embedded Design Center website at http://www.intel.com/embedded. For more information on SiSoft's complete library of available Intel kits, you may contact a SiSoft representative at http://www.sisoft.com/contact-us/.
About SiSoft™
SiSoft™ provides award-winning EDA simulation software, methodology training and consulting services for system-level high-speed design. Quantum Channel Designer® is the Industry's Premier Channel Simulator for the design and analysis of multi-Gigabit serial links and a DesignVision Award Winner. Quantum-SI™ is the leading solution for integrated signal integrity, timing and crosstalk analysis of high-speed parallel interfaces. SiSoft's software products automate comprehensive pre- and post-route analysis of high speed interfaces, detailing a design's operating voltage and timing margins. Design Space Exploration lets designers explore hundreds of design tradeoffs automatically, quickly optimizing designs for cost, reliability and performance. More information on SiSoft can be found at http://www.sisoft.com.
SiSoft, Quantum Channel Designer and Quantum-SI are trademarks of Signal Integrity Software, Inc. Intel, Xeon, Pentium, Celeron and Intel Core are registered trademarks of Intel Corporation in the United States and other countries. All other trademarks are the property of their respective owners.