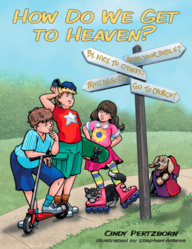 My desire is for children to be entertained by the story and characters so they stay focused to learn and understand the life-changing message about God's gift of salvation.
Grapevine, Texas (PRWEB) October 29, 2012
Cindy Pertzborn's son, Brandon, was only five-years-old when he asked, "mom, how do we get to heaven?" Not wanting to overload him with too many details, she initially offered small amounts of information.
"The more I answered, the more detailed his questions became," said Pertzborn. "By the end of the conversation, Brandon made the decision to trust God with his life and to accept God's gift of salvation."
After analyzing this discussion with her son, Pertzborn realized that many parents must encounter similar questions with their own children. Feeling inspired by God to help parents who might struggle with the right words, Pertzborn wrote her children's book, How Do We Get To Heaven?
How Do We Get To Heaven? is an informative solution for parents searching for a way to speak to their curious little ones about God and His plan. Pertzborn uses fun, colorful illustrations to capture children's attention while providing an easy way to open the discussion about God's gift of salvation.
For more information visit: http://www.HowDoWeGetToHeavenBook.com.
How Do We Get To Heaven?
By: Cindy Pertzborn
ISBN: 978-1-44974-585-1
Paperback: $16.95
Available at: http://www.amazon.com, http://www.barnesandnoble.com and http://www.bookstore.westbowpress.com.
About the author
Cindy Pertzborn is a committed Christian and mother whose passion in life is to share the love of God with others. Her desire to help others encouraged her to study psychology and earn a master's degree in counseling. This, combined with her experiences of working with children, paved the way for the work God is now leading her to pursue. She and her husband live with their three kids in Grapevine, Texas.
###