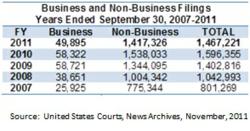 Orlando, FL (PRWEB) October 23, 2012
KEL Credit Repair, the leading provider of credit correction services for both consumer and business clients, has come up with some targeted services for the benefit of its customers who have filed for bankruptcy. The company provides valuable advice on how to improve credit scores (after a bankruptcy) which is vital for the financial standing of the individual.
Bankruptcy is not the end of the road though it is widely believed so. With the help of an experienced adviser, it is very possible to improve one's credit scores and regain financial stability.
Once an account is discharged in bankruptcy, certain creditor collection activities that took place pre-bankruptcy filing are no longer available. Opting in for an experienced consultant at this point can help improve ones credit report by removing the negative items in the report. Bankruptcy credit repair should be looked at as an opportunity to rebuild your credit ranking. It is crucial that credit repair is addressed as fast as possible at this point. KEL provides valuable advice and services for repairing bad credit scores, such as: help with verifying ones credit report, developing a customized credit repair plan, and strategies for rebuilding and maintaining a healthy credit standing. More info on the subject reference The Rise and Decline of Bankruptcy Filings in the Last 5 Years.
The first and the foremost aspect that KEL Credit Repair focuses on, is identifying errors in the credit reports, if any. These errors would prove costly in the future when insurance companies, healthcare agencies, employers, etc. because processing applications, interest rates applicable and other such factors may be dependent on an individuals credit score.
The experienced professionals at KEL Credit Repair focus on bad credit score improvement and credit repair needs of clients throughout the county. Not all credit situations are the same. It is important to hire a company that will work to ensure the right steps are taken for positive results.
For more information, visit http://www.kelcreditrepair.com/ or call (888) 552 3655.
About KEL Credit Repair: KEL Credit Repair is a Florida based credit repair company built with the sole mission of providing efficient attention to restore credit scores for our valued clients. KEL has a strong team of professionals carrying wealth of experience and knowledge about the different facets of credit score improvement.