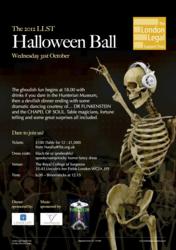 We really appreciate all the support that Lexacom is giving to the voluntary legal sector.
London, UK (PRWEB UK) 24 October 2012
Lexacom Digital Dictation is to sponsor the London Legal Support Trust's (LLST) annual Halloween Ball for the second year running, as part of a broader project to work more closely with the trust.
A recognised digital dictation leader in the healthcare market, Lexacom is increasingly being chosen by law firms looking to adopt efficient, reliable digital dictation technology which is both easy to use and cost effective. Lexacom began working with the LLST in 2011 and has continued to support the trust, through both sponsorship and use of technology.
Lexacom Managing Director, Andrew Whiteley, said, "the LLST provides a valuable service, in promoting and providing access to free legal advice for those who need it. Like all organisations, charities need to find ways to improve efficiency and we're delighted to be working with the LLST to support that aim."
The Halloween Ball is an important fundraising event for the LLST, as well as providing a great opportunity for solicitors, barristers, judges and friends to have some fun. In addition to sponsoring the meal, Lexacom is offering a latest generation iPod Touch to the winner of the Halloween Quiz, due to take place at the event.
Bob Nightingale MBE, Chief Executive of the LLST, said, "we really appreciate all the support that Lexacom is giving to the voluntary legal sector. This is an exceptionally difficult time for agencies who are supporting poor and vulnerable people and the funds and technical support provided by Lexacom are very welcome indeed."
Further initiatives are planned between the two organisations over the coming months.
For further information about Lexacom, visit http://www.lexacom.co.uk/legal or follow @LexacomDictate on Twitter. To learn more about the LLST, visit http://www.londonlegalsupporttrust.org.uk or follow @londonlegal on Twitter.
Ends
For media enquiries, please contact:
Catherine Martin (Lexacom) via 01295 738011 or
Natalia Rymaszewska (London Legal Support Trust) on 020 7092 3972
Notes to editors
Lexacom first pioneered digital dictation software in 1997 and it is now used to create over 10 million documents a year by professionals in the healthcare, legal and financial professions.
The software enables authors to flag the importance of a dictation, while admin teams can immediately see both the priority and length of the dictation and can plan their workload accordingly.
Lexacom provides a flexible service which can be tailored to individual clients. They offer a free, no-obligation 30 day trial to all new customers and provide excellent support through their UK technical team.