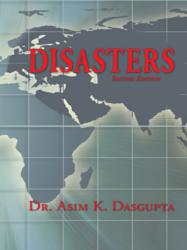 Since my childhood, I have been curious about the sudden happenings of nature, like lightning, solar eclipses, thunderstorms, cyclones and tornadoes.
(PRWEB) October 25, 2012
It's apparent now more than ever that disasters are having a massive impact on the world. Dr. Asim Dasgupta has spent a great deal of his life probing into worldwide disasters and compiling them into his easy-to-read, informative book, Disasters.
"Over the years, I have come across natural calamities such as drought, floods, mudslides, landslides, earthquakes and volcanoes," says Dr. Dasgupta.
Disasters uses case studies—based both on extensive research and Dr. Dasgupta's first-hand experiences as a traveling medical doctor—to examine different natural phenomena such as earthquakes, tsunamis, volcanoes, floods, cyclone, hurricanes, landslides, lighting, the solar system, droughts, famine and human movement as well as accidental disasters.
Not only does Dr. Dasgupta present his scientific conclusions in Disasters, he also highlights the book's relativity to recent events, as disasters continue to occur and humans continue to impact the environment in negative ways.
While Disasters systematic presentation of information on the problem of natural, accidental and environmental disasters provides readers with up-to-date knowledge, it also suggests how scientists and government officials can join forces to anticipate future events as well as plan resources and procedures to cope with the inevitable aftermath of disasters on Earth's citizens.
The world's toughest book critics Kirkus Reviews named Disasters as one of the best Indie books of 2011.
For more information visit: http://www.asimkdasgupta.com/.
Disasters: Second Edition
By: Dr. Asim Dasgupta
Softcover: $14.10/£ 9.90
E-book: $2.95
ISBN: 978-1-4520-6584-7/ 978-1-4520-6585-4 (e)
Purchase a copy of the book at: bookstore.authorhouse.com, barnesandnoble.com and amazon.com.
About the author:
Dr. Asim K. Dasgupta is an expert on the subjects of natural disasters, occupational health and environmental medicine. His publications are backed by years of research and personal experience. Dr. Dasgupta was a former occupational health consultant in the National Health Service, United Kingdom. He has also worked in general practice as well as in industries (Private and Public sectors.) He has traveled to many world disaster zones and was involved in extensive investigations and research. After retirement, his life-long fascination with the natural environment and man's impact on it led him to devote his time to researching, traveling and writing about global disasters.