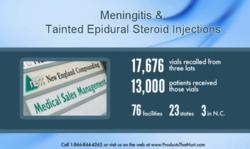 (PRWEB) October 23, 2012
An outbreak of meningitis that has been linked to contaminated vials of injectable steroid medication has affected nearly 300 people in several states, including North Carolina, and the death toll continues to rise. The Law Offices of James Scott Farrin is now offering free case evaluations to patients who received the injections to discuss a possible claim for compensation for injuries.
The New England Compounding Center issued a voluntary recall on Sept. 25 for three lots of the medication that were found to be contaminated by fungus. A total of 17,676 vials were included in those three lots, and the Centers for Disease Control estimates that as many as 13,000 patients may have been injected with those vials between May 21 and September 24.
As of Oct. 23, the CDC reported that 23 people in 16 states had died.
Two cases of meningitis were reported in North Carolina, including one fatality. Three facilities in North Carolina received the contaminated vials, including North Carolina Orthopaedic Clinic (in Durham), High Point Surgery, and Surgery Center of Wilson.
The outbreak has been linked to a steroid called methylprednisolone acetate that is injected in the spine to treat pain and inflammation. It is not the same as the epidural that pregnant women receive during labor.
Patients who experience symptoms, including fever, chills, new or worsening headache, and stiff neck, are urged to see a doctor right away, as early treatment can improve the odds of recovery. Fungal meningitis is rare and potentially fatal, though it is not contagious.
About the Law Offices of James Scott Farrin
The Law Offices of James Scott Farrin is headquartered in the American Tobacco Historic District, adjacent to the Durham Bulls Athletic Park, in Durham, North Carolina, with 12 additional offices statewide in Charlotte, Fayetteville, Greensboro, Greenville, Goldsboro, Henderson, New Bern, Raleigh, Roanoke Rapids, Rocky Mount, Sanford and Wilson. The firm's 31 attorneys focus on the following practice areas: Personal Injury, Workers' Compensation, Social Security Disability, Bankruptcy, Eminent Domain, Intellectual Property, Civil Rights, Mass Torts and Products Liability. Three of the attorneys are North Carolina Board Certified Specialists in Workers' Compensation Law, one is a North Carolina Board Certified Specialist in Social Security Disability Law and one is a North Carolina Board Certified Specialist in Business and Consumer Bankruptcy Law. The Law Offices of James Scott Farrin is involved in the community, including sponsorship of local philanthropic organizations.
Contact Information:
Eric Sanchez
280 S. Mangum Street, Suite 400
Durham, NC 27701
800-220-7321
http://www.productsthathurt.com
http://www.farrin.com/facebook
http://www.farrin.com/twitter
http://www.farrin.com/youtube