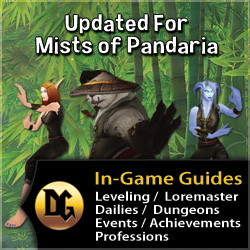 (PRWEB) October 23, 2012
With Hallow's End in full swing, players from all over Azeroth are hurriedly working to complete their quests and achievements before the event ends. However, not everyone will finish in time and as a result will be unable to complete their achievements until the next year.
Fortunately, there is a new solution that helps players complete their event quests faster than ever: the Dailies and Events module of Dugi's Ultimate WoW Guide. The Mists of Pandaria version of their Hallow's End guide has just been released.
This guide uses Dugi's patented questing software to help players complete their achievements and events quickly. Dugi's Guide is installed on players' computers and then guides them through the events in-game. With the Dailies and Events guide, players are able to log in and turn it to the specific event they would like to work on (such as Hallow's End).
Once started, Dugi's Guide directs players where to go with a GPS-like system in order to complete all of the achievements associated with Hallow's End in the fastest route possible. Since seasonal events require so much travelling around Azeroth, being directed in the fastest route possible saves a lot of time over trying to do the events without a guide.
As an added bonus, players using Dugi's Dailies and Events Guide get free updates as new events are released. This helps players working on the meta-achievement since the guide is updated for all the new events as they are released. Getting the meta-achievement and earning the epic mount associated with it is fairly difficult for the normal player due to time constraints, but Dugi's Guide makes it easy.
Finally, players who use Dugi's Dailies and Events guide get the added bonus that this guide also has a "dailies" mode that guides players through completing their daily quests in the fastest time possible. This is perfect for maxing out reputation with a specific faction or even just earning gold through completing dailies.