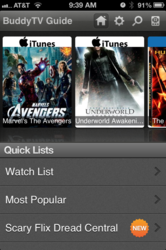 "We wanted to make it easy for users to find the Top 10 Halloween movies of all time," said Andy Liu, CEO and co-founder of BuddyTV.
Seattle, WA (PRWEB) October 24, 2012
Halloween is a fun time of year filled with costumes, makeup, and of course, movies. BuddyTV announced today the launch of their new Halloween quicklist, the newest feature in their free iOS app, BuddyTV Guide. Users will be able to get in the holiday spirit with the Halloween quicklist, which will feature the Top 10 Halloween Movies.
"To get people excited about Halloween and all the fun that comes with it, adding a Halloween quicklist is a no-brainer," said Andy Liu, co-founder and CEO of BuddyTV. "We wanted to make it easy for users to find the Top 10 Halloween movies of all time."
On the BuddyTV Guide home screen, a Halloween quicklist will take users to a list of Top 10 Halloween Movies that were chosen in conjunction with the popular blog, Dread Central (http://www.dreadcentral.com). Once a particular Halloween movie is chosen, users have the opportunity to set alerts to remind them to tune in, or if the movie is available, it will be instantly accessible through Netflix, Amazon, or iTunes through the BuddyTV Guide app.
For people with year-long horror cravings, the free BuddyTV Guide app's TV listings GRID has it's own "Horror" genre. When switched to the "Horror" genre, users have access to a concise list of horror-related TV shows and movies that are currently available for viewing.
BuddyTV is the #1 TV discovery app in the world. Users have the ability to use the app as a remote, reminder service, and even as a social outlet. The BuddyTV Guide 2.6.1 app is available for free in the app store on iTunes. To learn more, visit the BuddyTV Guide website for more details.
--
About BuddyTV:
BuddyTV's goal is to help TV fans discover their must-see TV. As the #1 independent TV site on the web, this means providing a venue for over 5 million unique visitors per month to connect with fellow fans, read the latest news and enjoy entertaining features about their favorite shows. Now, with over 400,000+ downloads on iOS and an almost perfect average user rating of 4.5 stars, the BuddyTV Guide app is enhancing and expanding the ways that consumers enjoy their TV time.
Press Contact:
For press inquiries or to arrange an interview with BuddyTV CEO Andy Liu, please contact Lindsay Hersh: Lindsay(at)buddytv(dot)com or 206.859.4180
For more information about BuddyTV and the BuddyTV Guide App, visit BuddyTV.com, and follow @BuddyTV and @BuddyTVGuide.