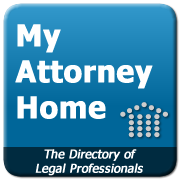 "We're excited to offer a new avenue for our consumers and believe it will be a great benefit to many people needing help across the country." - Kye Duncan, COO Leadrival
Fort Worth, Texas (PRWEB) October 25, 2012
LeadRival is pleased to announce the launch of a new consumer-based website, MyAttorneyHome.com. This website was created as an organized home base that makes it easy to narrow in on the specific need of each consumer. MyAttorneyHome joins LeadRival's portfolio of innovative legal sites, that provide information on a variety of legal issues to ensure each consumer has an opportunity to Learn About The Law in accordance with their specific situation.
MyAttorneyHome is designed as a consumer resource that provides current and accurate information on the legal process. Through Legal Help Forums, consumers are able to search through a variety of legal issues to find support from others who are facing similar legal problems. Also provided is a case evaluation form which allows a consumer to locate and talk to a local attorney about his or her situation. This service is provided free of charge and there is no obligation.
LeadRival's Chief Operating Officer Kye Duncan stated, "We're excited to offer a new avenue for our consumers and believe it will be a great benefit to many people needing help across the country."
For those who are in need of legal counsel and do not know where to start, MyAttorneyHome.com offers an exciting new opportunity to receive the help needed with just a click of a button. MyAttorneyHome.com will connect those seeking legal representation with a local attorney who can provide the information needed without jumping through hoops.
Come join a number of other consumers who have successfully found an attorney to help with their case by visiting the MyAttorneyHome site. For more information, call 1.800.332.8017 or email LeadRival at sales(at)leadrival(dot)com.
LeadRival:
LeadRival is an internet lead generation company in the consumer legal services industry. It's clients are law firms across the country specializing in one or more areas of law. LeadRival generates leads in a wide array of legal practice areas including Bankruptcy, Disability, Divorce, DUI, Personal Injury, Tax and Workers Compensation. Since 2001, LeadRival has delivered quality leads straight to attorneys and advocacy groups nationwide helping them to acquire clients at a significantly lower cost than traditional means of advertising.
If you'd like more information about this topic, please visit LeadRival.com or e-mail sales(at)leadrival(dot)com.